Today, when we think of American wine, inevitably one region dominates: the Napa Valley. Everybody has heard of it and its bold red wines, especially in the Bay Area, where it's practically a local pastime to tour the wineries, visit tasting rooms and get to know how the local juice is made.
But did you know that there was once a time when Napa wines were considered sub-par, especially when compared to their European counterparts? Partly, this happened because of Prohibition, which threatened every winemaker's existence over thirteen years. Many of these wineries stayed alive by making what was known as "sacramental wine"—juice for church services. But most vineyards, many already weakened by a vineyard pest called phylloxera, fell into disrepair, and wineries ceased production.
In the decades following, Napa slowly began replanting and its wineries got back to production—but the region was not producing anywhere near as much wine, or of the quality that we see today. It was thanks to an event called the Judgment of Paris, which took place in 1976 — 40 years ago — that critics, industry professionals, and connoisseurs began to take Napa Valley wines more seriously. It's also what jump-started its ascendancy, by attracting funding and prompting farmers to plant vineyards.
Don't Miss A Drop
Get the latest in beer, wine, and cocktail culture sent straight to your inbox.
It was an Englishman who owned a wine shop who suggested the event: a blind tasting of high-profile wine industry luminaries who would taste California and French wines, side by side, and score them. Since Chardonnay and Cabernet Sauvignon are both native to France and also predominant in California, those varietal wines became the basis of the tasting. And to everyone's surprise, the winners in both categories were from Napa! Chateau Montelena won for their '73 Chardonnay, and Stag's Leap Cellars for their '73 Cabernet Sauvignon. Both wineries were relatively unknown at the time, and today are very popular labels that still make great wine. France, of course, was not so happy about the result. They might not be celebrating the 40th anniversary of the Judgment across the pond, I think it's fair to say.
But here, we absolutely should. The best way? Do a blind tasting, at home. It's simple and fun, and is a great way to test your knowledge and improve your palate. Here's how to host your very own Judgment of Paris, chez vous.
Gather Your Friends and Some Bottles
Tell your friends that it's time to rekindle some good old-fashioned French-American animosity, and that wine is the way to do it. Normally, for a blind tasting, you just pick a theme (like Italian reds) and let everyone pick their own bottle. You could try that here, but the issue is you won't end up with a balance of French and American, and white and red.
One solution? Call a well-reputed local retailer and ask him to select the wines for you. Just say you want three of each: California Chardonnay, French Chardonnay, California Cabernet Sauvignon, French Cabernet Sauvignon (you could also just ask for Bordeaux blends, instead of 100 percent Cab Sauv). When you pick up the wines, ask for a list of what they are—including location, varietal, vintage, and producer, then set it aside. That way, even you, the host, won't be aware of what bottles are in the line-up.
Hide Those Labels! And Even The Bottle Shape!
At the Judgment of Paris, the wines were presented to the panel in decanters—but perhaps you don't have, say, a dozen decanters laying around. But to be really serious about blind tasting, you need to have no clue what's in the bottle.
Cover the bottles with tinfoil so the label doesn't show, and then also put a paper or plastic bag over the bottle—because its shape can give away crucial information about where it's from.
The Tasting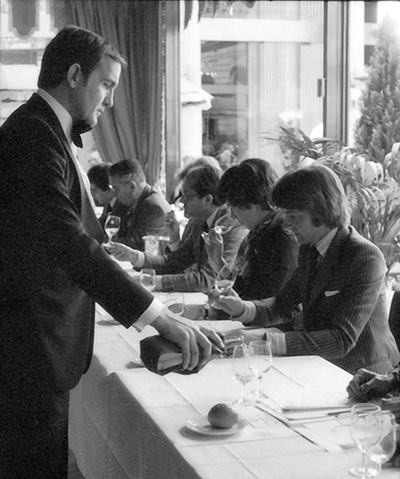 You'll want to taste the wines without food, to really get the best assessment. Have some water handy to rinse out your mouth before tasting, and some spit buckets so you don't drink every taste. (It might sound crazy to spit wine when tasting, but it's the best way, and how the pros do it.) Nobody should wear perfume, scented lotion, or cologne, or even lipstick.
You can rank the wines, like the Judgment of Paris critics did, giving them points—and see who wins. At the same time, you could play a guessing game.
Professionals use an extensive rubric and deductive method to guess a wine's exact location, varietal or blend, and producer. For a more laid-back approach, just go around the circle as you taste, and each person can make a guess as to whether the wine is from California or France. You could talk about why you're making that judgment, too, and have a little debate.
Also, if you want to get more experimental, you could try another New World versus Old World varietal tasting—like German Riesling versus Riesling from the Finger Lakes, New York.
The Results
Tally your points to see which region was the winner! And if your guessing skills weren't spot on, that's fine—blind tasting is super hard, and you'll get better at it by practicing more. You can pick a different theme each month and taste this way—it's a fun way to improve your wine knowledge.
Further Celebrations
The official anniversary of the Judgment is May 24th, so if you are in California or will be traveling there, do keep an eye out for events at your favorite Napa Valley wineries. Various winery parties, dinners, tastings, and open houses are listed here.