Having a Scotch cocktail is kind of like having a group date. You get to know idiosyncratic, bad boy Scotch in the company of some friendlier buffers. Maybe you and brooding Scotch like each other. Maybe you share some fries, and maybe you separate out from the group for some serious one-on-one time (i.e. sitting alone next to a fireplace with a Glencairn of Single Malt). Or maybe you realize you prefer Scotch specifically in the company of others. Group date or bust.
And that's just fine. Because at the end of the day, Scotch cocktails aren't meant to evangelize—in fact many Scotch purists might consider the mixing of Scotch pure blasphemy. That said, if drinking a Scotch cocktail happens to introduce you to a certain Scotchy pleasantness you never expected to experience, you might find yourself comfortable enough to drink some Scotch entirely on its own. Like having a staring contest with a warm but ferocious bear.
Bear in mind, of course, most of the recipes below call for blended Scotch—over, say, a heavily peated Islay Scotch or a double-cask single malt from, well, anywhere. Once you get into Scotch, or comfortable with a recipe, or both, feel free to experiment. Chances are anything too assertive in its character, or high in price tag, is better left in a tumbler, with a drop of water at most.
Don't Miss A Drop
Get the latest in beer, wine, and cocktail culture sent straight to your inbox.
One of the most approachable (and visually striking) Scotch cocktails, thanks to Cherry Heering (a Danish cherry liqueur), sweet vermouth, and OJ. Best to use a blended (or smoother) Scotch for this one. Side Note: Named after a tragic 1922 love story involving a matador love triangle. So yeah, this one's all kinds of dramatic.
Like a Martini, except Scotch subs for the Gin. Just some blended Scotch whiskey, equal parts sweet and dry vermouth, and a few dashes of Angostura bitters (not found in the classic Martini, but appropriate where Scotch is involved).
Like the Rusty Nail (see below), the Godfather is a two-ingredient cocktail, so the Scotch you choose is really going to matter. Again, unless you're a smoke fiend, something not too peaty would work best. If you are a smoke fiend, go for peat, just get ready for the taste of heavily, angrily toasted almonds. Some recipes recommend a 1:1 ratio between Scotch and Amaretto, but if that's too sweet for you, do what this recipe does and up the Scotch. (Also, despite what ELC says, the Godfather isn't exclusively "manly man" drink. It's a Scotch drink, so drink up, ladies.)
Anything named after a likely source of Tetanus sounds, well, undrinkable. But the Rusty Nail is actually a beautifully simple, approachable Scotch cocktail; again just two ingredients—Scotch and Drambuie (which is a sweet Scotch-based honey and spice liqueur). Most recipes call for a higher quantity of Scotch to Drambuie, but the Weary Chef dials her Scotch down for something a bit sweeter (the beauty of the two-ingredient cocktail). If you don't want to do another blended Scotch for this one, a heathery Highland Scotch, or even a Sherried Speyside style.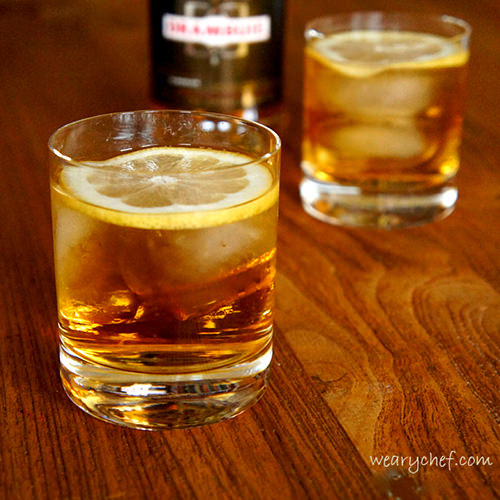 A more recent innovation in the annals of Scotch cocktails (from Milk & Honey alum Sam Ross), the Penicillin combines blended Scotch with just a hint of smoky peated Islay Scotch (think Laphroaig or Ardbeg), mixing that with honey-ginger syrup and lemon juice. The mild smoky salinity of the peated Scotch should pick up on the heat of the ginger, with lemon slicing through all that warmth with refreshing brightness. The kind of cure we wish had universal applications.
Developed around the turn of the 20th Century, this is basically a Manhattan with Scotch replacing the rye, along with a hefty dose of sweet vermouth and a few dashes of either orange (per the Waldorf Astoria Bar Book) or Angostura bitters. These days, both should be easy enough to come by, and both will pick up different notes from the Scotch itself. So dash as you wish.
The easiest, and probably most approachable, of all Scotch cocktails, since you're basically dousing 2 ounces of Scotch whisky with ginger ale (or club soda and ginger ale, or club soda and homemade ginger syrup, depending on how crafty you wanna get). Yet more proof (along with the Penicillin) that Scotch and ginger make an unexpectedly delicious pairing. (Bonus Points: Add a lime wedge and some lime juice, and you've got a Mamie Taylor.)
A cocktail named for a poet who could draw something profound from the overturning of a mouse's nest is something to be sipped and honored. From Harry Craddock's 1930 Savoy Cocktail Book, the Bobby Burns marries Scotch with vermouth and Benedictine—a French herbal liqueur. Something from the Highlands again might work well here, though once more, blended for playing it safe—since, per Burns, "the best laid schemes o' Mice an' Men gang aft agley."
Scotch here meets tawny port, which is why it's tempting to go for a port cask-finished Scotch instead of the recommended blended, but only if you have plenty leftover for sipping. A bit of dry vermouth interlocks the two rich ingredients like a vine. And the port (some recipes, like this, call for tawny, while others say ruby is just fine) mellows the Scotch without overshadowing. (How could it? It's Scotch.)