Upgrade the home bar of that special someone in your life (even if it's just you) with these awesome cocktail and spirits essentials. Once they're fully stocked, they can make you a nice cocktail as an extra thanks. Here's our top picks.
The Essential Cocktail Set

Ask any professional bartender what tools they can always count on and it always comes back to this dependable bar set. Made with exact precision and high quality materials, this essential set gives your everything you need to whip up the classic cocktails everyone knows and loves.
The Mid Century Modern Bar Cart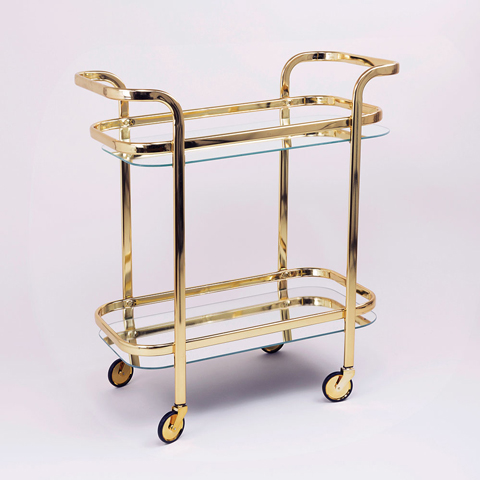 We love this bar cart because it's the perfect blend of fashion meets function — and above all it sells for a reasonable price compared to basically anything you can find for similar quality and style. The gold plated, stainless steel construction is very sturdy, but can easily be moved around with a convenient set of wheels.
The Geometric Spirits Decanter

This eye-catching decanter has twenty triangular sides, meaning it's a low-tech light show in a bottle. Rest it upright or on its side and let it show off the hue of your favorite spirits.
Happy Hour Cocktail Pins (Set of 5)

Put the finishing touch on your outfit with these enamel pins inspired by classic cocktails. Whether you choose the martini, Aperol spritz, negroni, or margarita, your denim jacket or bag will thank you. Get them individually or as a complete set (with a bonus Tiki pin).
Arrow Swizzle Sticks (Set of 4)

Upgrade your next cocktail party with these statement-making stirring sticks. This retro mid-century modern design is sure to catch the eye of all your guests. It's an easy way to class up any cocktail you serve.
Geometric Drinks Rocks (Set of 4)

We love whiskey rocks for their ability to cool your drink without watering it down, but we're obsessed with these for their unique shapes. Made with soapstone and marble, these rocks are finished by hand and easily fit into a standard rocks glass.
The Hero / Rebel Double Rocks Glasses (Set of 4)

These double rocks glasses are a must have for the history buff in your life, because each one represents an iconic figure from America's Revolutionary period. Hero = George Washington, Rebel = Thomas Jefferson, Philosopher = Benjamin Franklin, Diplomat = John Adams. They were manufactured and sand-etched in the US and the dishwasher safe glasses were even made in partnership with the Colonial Williamsburg Foundation.
The Scotsman Decanter

This timeless decanter is a must-have for whiskey or Scotch lovers. It allows you to have a "house" whiskey always at the ready for when guests come over or when you're looking for a casual dram after work.
The Bracelet Flask

Most recently seen providing some needed relief on the wrist of Sofia Vergara at the Emmys as well as on "Ellen," this bracelet flask is a must have for any fashionista.
Mid Century Modern Martini Glasses

There's something about when a cocktail is served martini glass that just makes you feel like you're drinking liquid money. These Mid-Century Modern Martini Glasses are no exception, and are the perfect vessel for all of your martinis, Manhattans, and Cosmopolitans.
Cheers Leggings

These leggings are a must for the person ready to go to happy hour after an intense spin class. Also great for lounging around the house watching Netflix.
The Diamonds Are Forever Ice Cube Tray

While we might rather find an actual diamond at the bottom of our after dinner dram or cocktail, these diamond-shaped ice cubes are a good consolation prize. Because of their large size, they dilute your drink slower, keeping your pour of bourbon or scotch completely balanced. They also look beautiful in a vibrantly red Negroni.