It can be hard to gift for the extra special oenophile in your life, especially when you can't remember what kind of wine they like or if you think gifting a bottle of wine can be the easy way out.
That's why we've rounded up our favorite gifts at multiple price points so you can easily cover all of your bases.
Bring Me Wine Socks:

These socks are cozy, cheeky, and practical. Good for a laugh, and for an occasional glass of wine being brought to you without you having to ask (because the socks asked for you).
Promising Review: My husband laughed but I got wine! As did my friends!! We now have our little circle of "wine sock" devotees.
Geometric Crystal Wine Decanter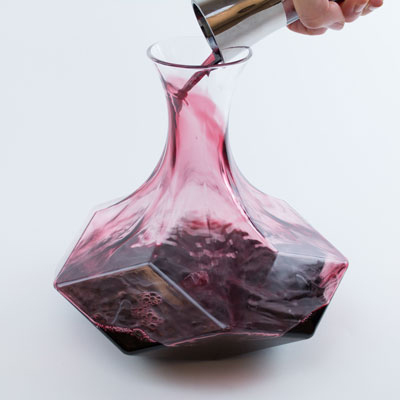 The specially crafted angles of this lead-free crystal decanter cause light to pass through your vino at multiple angles, causing the beams to refract onto your table creating a ruby-colored light show, especially with medium-bodied red wines and fuller-bodied white wines.
Promising Review: Edgy decanter that is very functional and fun
Italesse Red Wine Glasses (Set of 6)

Valentine's Day is one of the most popular occasions of the year to enjoy a nice, high-end bottle of wine which calls for the perfect set of high end wine glasses. We fell in love with this stemware while on holiday in Italy. The luxuriously thin bowls and tall profile of these glasses exude elegance like no other. When paired with a vintage Barolo, you're destined for a night to remember.
Promising Review: Bought these to finally replace our junky glasses from IKEA we bought years ago. They are truly beautiful and our go-to's for steak dinners at home or when we have people over. They are fragile so they aren't meant to be thrown around but we haven't had any break and we run them through the dishwasher.
Heavyweight Champagne Stopper

Our Editor-in-Chief, Emily Saladino claims this Heavyweight Champagne Stopper has saved her life (and her unfinished bottles of bubbly) on multiple occasions. After testing multiple stoppers through our sparkling wine tastings, we've found that this stopper keeps the bubbles and freshness of your favorite Champagnes and Proseccos the longest.
Promising Review: This thing is like magic. It really does keep the bubbly bubbly – like the bottle was just opened! I highly recommend it. The service was super quick also – received it in the mail right away.
The Ultimate Restaurant Style Corkscrew

When it comes to a corkscrew, at the end of the day the only things that matter are that it opens your bottle quickly, efficiently, and it's always ready for action. That's why we'll always go up to bat for this restaurant style, double hinged corkscrew. Made with stainless steel and a sturdy handle, this corkscrew will become your new best friend opening bottles in five quick turns.
Promising Review: I have had at least a dozen. This the best hand-held one I have ever had. It's a bit tricky at first, but once you the hang of it, it's a snap to use.
The Aficionado's Wine Thermometer

To really taste a wine for all it can offer, it's extremely important to serve it at the appropriate temperature. More often than not serving wine at room temperature is too warm and straight out of the fridge is way too cold. Thankfully, a wine thermometer is an easy and inexpensive way to keep track of your vino's temperature. We love this thermometer specifically because it doesn't use batteries like many others on the market and easily fits on regular 750mL bottles. Plus, you'll always know what temperature your wine should be at with its handy guidelines.
Promising Review: Originally had another electric and more expensive thermometer but had a lot of battery issues. Bought this on an impulse as a cheap replacement to hold us over and we actually like this one better than the old one we wanted to replace. Always keep it in our drawer ready for trying a special bottle from the cellar.
The Expert's Wine Log

Sure, you can find wine journals many places. This wine journal, though, has beautiful raw construction, a handcrafted leather cover, and fields to document all the important information, including the label. The perfect gift for those hoping to do a deeper dive into wine, and possibly start a wine career.
Promising Review: Very thoughtful design and execution. What a great product – excellent craftsmanship, is as good as it looks and it looks great. Had ordered more for gifts to special people who love wine, feel very confident that they will be thrilled to receive one. A great tool to capture the memories and details of a wonderful experience.
Handmade Ceramic Wine Bottle Coasters

These ceramic bottle coasters—which can hold the base of a standard Bordeaux-style, Burgundy-style or sparkling wine bottle—are a chic way to avoid stains on your table. They come in five gorgeous colors and are hand thrown in New York by one of our favorite potters.
Promising Review: We bought the Blue Rutile coaster and it looks great on our table and keeps the wine rings away! Now we can't imagine life without it
Sterling Silver Corkscrew Necklace

Made entire from sterling silver, this necklace lets you keep your love for vino literally close to your heart. It's the perfect accessory that can easily go with whatever is already in your closet. We love wearing it to wine tastings and family gatherings (AKA the times when the corkscrew is needed more than ever).
Promising Review: Got this as a Christmas gift and I get so many compliments on it. It's simple and dainty enough that I can wear it with nearly everything.
The Sommelier Watch (Three Colors)

Wine is all about craftsmanship, timeless elegance, and a bit of show-off-able beauty. So are these sleek, wine-inspired watches – the bands are made from cork and stained with wine. A gorgeous and unexpected gift for anyone who loves wine, or who just likes looking like they appreciate the finer things.
Promising Review: My boyfriend works in a wine shop so I got the gold watch for him with the wine colored band and he absolutely loves it. Arrived super quickly too, so I couldn't have been happier.
The Wine Breather Decanter

Much like we need a hot coffee to fully be awake, wine needs a steady hit of oxygen in order to fully release its flavors and aromas. If you're short on time, this decanter is the most beautiful and efficient way to present your wine at its peak in under two minutes.
Promising Review: This thing works like a charm and is really fun to use.
Cooler Than Cool Wine Glasses (Set of 2)

There's nothing worse than drinking warm wine. Look out for yourself/your wine-loving friends by grabbing a set or two of these chilled glasses, which feature a proprietary gel blend to keep the wine cold, and a silicone band so your hands aren't chilled along with your wine.
Promising Review: Can't stand having to put ice cubes in wine so I got this as an alternative to when the wine isn't cold enough. Super easy to use and great for summer.