The Story Behind The Coal Train
This tropical spin on the classic Old Fashioned is made with a mixture of rye and a rhum agricole in place of bourbon, and in place of simple syrup, a delicious banana liqueur. Amargo Vallet, a Mexican bitter, extracts some of the spicy and peppery notes found in the Michter's Rye.
Ingredients
1 1/4 ounces Michter's Rye

3/4 ounces Clement 10 yr Rhum Agricole

1/2 ounce. Tempus Fugit crème de banana

1/4 ounce Amargo Vallet
Directions
Build in a double Old Fashioned glass.

Add a 2x2 ice cube and stir.

Garnish with a lemon twist.
Rate This Recipe:
Yield: 1
Updated: 2021-10-11
---
Related Reads & Recipes
Learn About Rum
· Rum 101
· Our always updated list of the best Rum to buy right now!
More Rum Recipes To Explore
The Cinnamon Bun Sipper Recipe:
For the taste of sweet cinnamon buns in a rye-soaked cocktail, look no further than this easy recipe. Learn how to make it here!
The Tiki Bonfire Cocktail:
This tiki cocktail uses two types of rum and several fruit juices, yet maintains its bright, balanced flavors. Learn how to make it with this easy recipe.
The Mai Tai Recipe:
The Mai Tai recipe was created by one of the founding fathers of tiki, Trader Vic. The original spec utilized a 17-year-aged Jamaican rum as the base.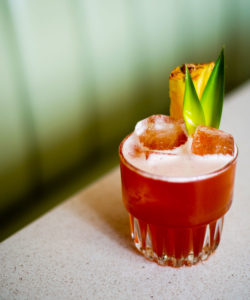 The Lawn Flamingo Recipe:
Checking all the flavor boxes, Brooklyn beverage director Sarah Boisjoli mixes sweet, tart, and savory with pineapple and lime juices, blackstrap rum, mezcal, Campari, and simple syrup. Learn how to make her recipe here.