Everybody in the entire world loves a good, Baja-style fish taco. OK, everybody besides vegans, the tragically allergic and, of course, the inexplicably taco-averse. May they burn in hell. (Kidding!) And sure, it's late summer, but is it ever really too late in the year to think about fish tacos? Seriously, who wouldn't enjoy a refreshing swap of Thanksgiving turkey for a Thanksgiving taco platter? Come Christmastime, we'll mix the red and green cabbage for the taco slaw and sprinkle it like tinsel all over the place. Fish tacos are magical. They make everyone happy. They're the thing that (almost) bonded Red to the killers in Pineapple Express.
Seriously, we got taco rationalizations for days. Which is why we figured it'd be good to round up some wine pairings to go with said rationalizations. Because while we love fish tacos with beer — really the timeless pairing — sometimes we're in the mood for fish tacos (a given) while at the same time in the mood for wine.
Fortunately, pairing the two really isn't that hard, especially since your basic Baja-style fish taco is a symphony of flavor and texture prepared with a few simple ingredients. There's firm white fish, maybe cod or mahi mahi, something that can stand up to grilling or frying. (Sorry, tilapia, this is the big leagues.) Add some seasoning, shredded cabbage, and the white liquid gold otherwise known as Mexican crema, and you're set. Even if you're not in cabana shorts, you will feel like you're in cabana shorts — in your soul.
And while we want you to eat, and pair, with the freedom of someone in cabana shorts, there are a few considerations, like if you're using heavier, earthy spices like cumin; whether you're adding heat (jalapeno, chipotle, cayenne); or whether you're grilling or frying, since you'll get smoky char marks on one hand and a rich, crunchy coating on the other. Either way you win, though. 'Cause, you know, fish tacos.
What's nice about Whitehaven is you won't just get a grassy citrus bomb. There are smoother flavors of white peach and stone fruit to complement the crema, and of course some citrus flavors and maybe even a hit of jalapeño, kind of like what you'd put on your taco.
You're gonna go for sparkling wine with tacos? Why yes, yes you are. This bottle's just $20, so let's all calm down. And for that you get a nice fine crémant bubbly with strawberry notes and a perky acidity. A great option, especially if you decide to season your fish with cumin or cayenne, or go that extra mile with chipotle crema.
If you haven't gotten into Vinho Verde yet, fish tacos might be the perfect opportunity. You don't get miles of complexity, but what you do get (for very little money) is an incredibly zippy young sparkler with looser bubbles than a Champagne or Cava, with some fresh green and citrus notes. A great stand-in for the lager-taco pairing, especially if you're going fried. (And yeah, go fried.)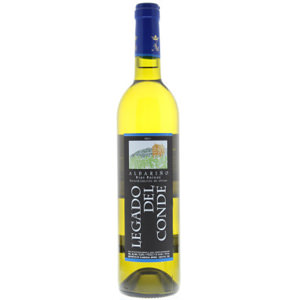 Albariño is the same grape often featured in Vinho Verde, but as a varietal wine it's a bit softer. Still crisp, though, with a bit of a flinty minerality that makes it a good pairing for a grilled fish taco without overwhelming the flavors of the fish itself.
A bit of a splurge for tacos, but then we like to pair Champagne and fried chicken. Made with Cinsault and Mourvèdre, so it has both dry red berry fruit and a delicate, almost savory note. Aged in stainless steel so it's still vibrant and fresh on top of all that complexity.
Not your average acid-punch Pinot Grigio (and you'll pay a bit more for it, but it's worth it). There is acidity cutting through the full fruit here and also the faintest hint of salinity characteristic of the Collio region. It'll complement grilled or fried, or both, since more fish tacos are always better.
Hyper available, hyper affordable, with a lot of value in the bottle. You get those layers of florals and citrus topped off with green fruit, with a nice but not-overpowering acidity racing through. Minerality complements and cuts through the fried fish and, most importantly, cleanses your palate for another bite. And another sip. And so the dance continues.