Two months following her secret marriage to chef Chris Fischer, comedian Amy Schumer is finally divulging the truth about their honeymoon.
It involved a lot of wine.
"He's a chef, so was cooking in Sonoma at Scribe Vineyards. So, I followed him there," Schumer told Stephen Colbert on his late-night show on April 9. "Then, he was cooking at a festival in Milan, and I heard that they invented pasta and wine. So, I've just been kind of following him around getting drunk."
Historians might argue for Georgia and China, respectively, as possible birthplaces of wine and pasta. It hardly matters.
Schumer is renowned for her raucous, relatable persona. It includes a hard-partying fictional alter-ego in Trainwreck, the below gif of her drinking a swimming-pool-sized glass of wine (from her Comedy Central show, Inside Amy Schumer), and a publicly admitted real-life habit of "just a couple glasses of wine" each night.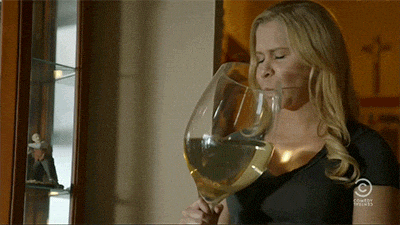 Managed by fourth-generation winemakers Andrew and Adam Mariani, Scribe Winery is an essential part of any Sonoma vacation, honeymoon or otherwise.