Since the days of Prohibition, Americans have loved ice cream. Like, really loved ice cream — according to the United States Census Bureau, the average American eats roughly 20 pounds of the stuff per year. This widespread affection for the frozen dessert has manifested through an abundance of ice cream shops across the country, both large and small. But of all of the parlors in the U.S. — of which there are over 16,000 — it's hard to think of one more ubiquitous than Dairy Queen.
The very first Dairy Queen was opened in 1940 in Joliet, Ill., along Route 66 by local entrepreneur J.F. McCullough and his son, Alex. The father-son duo had developed the recipe for what would become Dairy Queen's iconic soft-serve two years prior, debuting the product at an ice cream shop in Kankakee, Ill., during an "All You Can Eat for 10 Cents Sale." After more than 1,600 people came to try their soft-serve, the pair believed they could run a successful shop of their own — and they were right.
By 1950, the number of Dairy Queens in the U.S. had skyrocketed to over 3,000, and by 1953, the ice cream chain had expanded to Canada. Today, Dairy Queen boasts 5,700 locations across 30 countries, with over 4,300 establishments in the U.S. alone. In fact, Vermont remains the only state without a Dairy Queen. (Its only two former locations have since closed, likely due to residents' preference for local juggernaut Ben & Jerry's.)
Don't Miss A Drop
Get the latest in beer, wine, and cocktail culture sent straight to your inbox.
Much of the chain's success is due to its continued innovation: The brand has introduced now-signature treats like the chocolate fudge, peanut, and ice cream-layered Buster Bar; added hotdogs, hamburgers, and other hot foods to its menu; and, of course, created the best-selling Blizzard. Launched in 1985, the Blizzard combines uber-thick custard with chopped-up candy or fruit — or both — and is served with an obligatory "flip" by the employee who made it to show off the dessert's dense, luscious texture. The Blizzard proved to be an instant success for the chain, which sold over 175 million in its first year alone, and remains a beloved menu item offered in more than two dozen flavors.
Craving a Blizzard of your own and curious to see how many Dairy Queens are in your neck of the woods? Check out our map below to discover how many outposts are in your home state.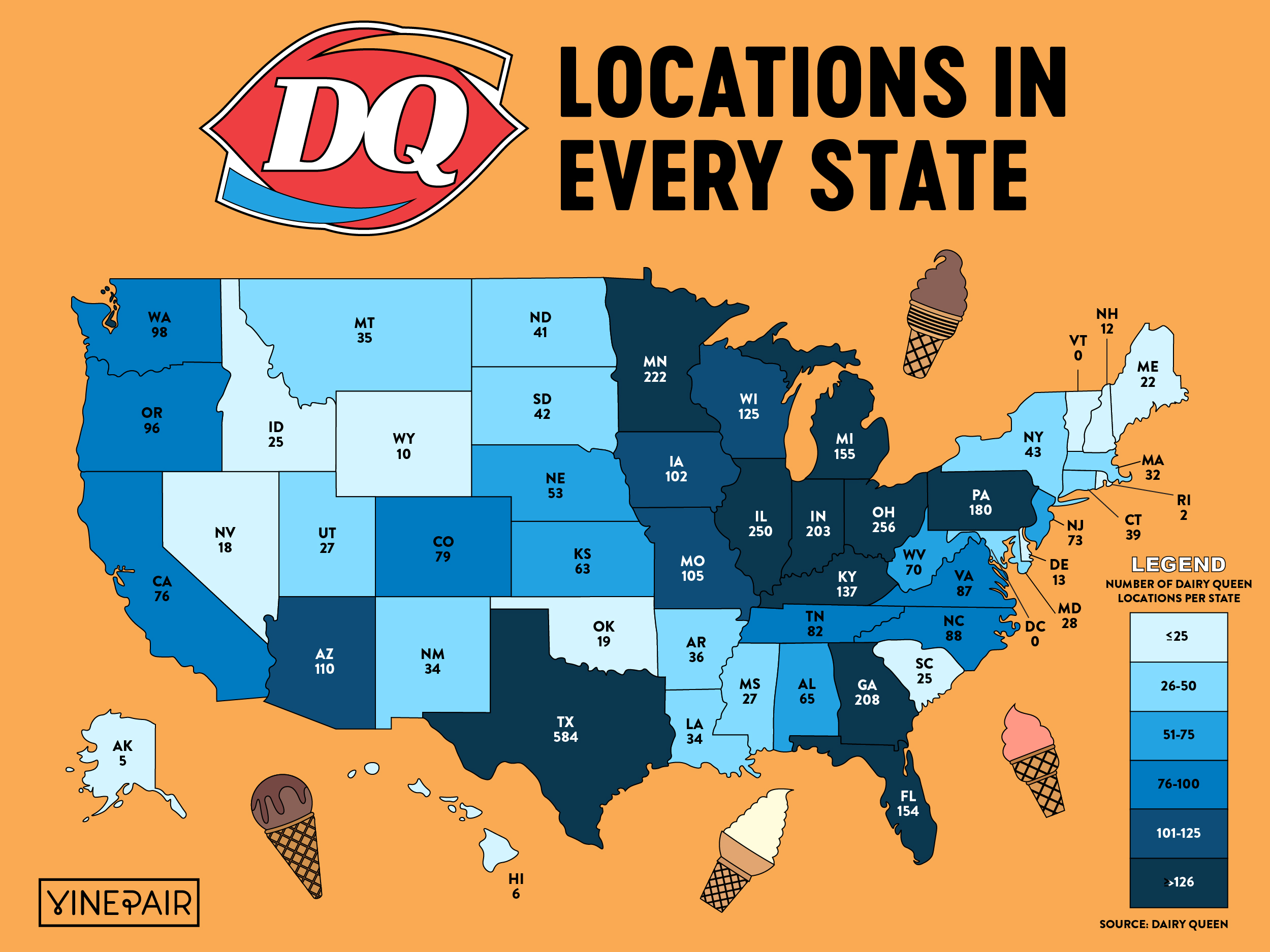 The Number of Dairy Queens by State
| | |
| --- | --- |
| State | Number of Dairy Queens |
| Texas | 584 |
| Ohio | 256 |
| Illinois  | 250 |
| Minnesota  | 222 |
| Georgia  | 208 |
| Indiana  | 203 |
| Pennsylvania  | 180 |
| Michigan  | 155 |
| Florida  | 154 |
| Kentucky | 137 |
| Wisconsin | 125 |
| Arizona | 110 |
| Missouri | 105 |
| Iowa | 102 |
| Washington | 98 |
| Oregon | 96 |
| North Carolina | 88 |
| Virginia | 87 |
| Tennessee | 82 |
| Colorado | 79 |
| California | 76 |
| New Jersey | 73 |
| West Virginia | 70 |
| Alabama | 65 |
| Kansas | 63 |
| Nebraska | 53 |
| New York | 43 |
| South Dakota | 42 |
| North Dakota | 41 |
| Connecticut  | 39 |
| Arkansas | 36 |
| Montana | 35 |
| Louisiana  | 34 |
| New Mexico | 34 |
| Massachusetts  | 32 |
| Maryland  | 28 |
| Mississippi | 27 |
| Utah | 27 |
| Idaho | 25 |
| South Carolina  | 25 |
| Maine | 22 |
| Oklahoma  | 19 |
| Nevada | 18 |
| Delaware | 13 |
| New Hampshire | 12 |
| Wyoming | 10 |
| Hawaii | 6 |
| Alaska | 5 |
| Rhode Island | 2 |
| Vermont | 0 |
| Washington D.C.  | 0 |
*Image retrieved from: jetcityimage – stock.adobe.com