Among the many mysteries of the back bar is the abundance of spirits named after birds — particularly in the whiskey category. From Ireland to Scotland to Kentucky, labels like Redbreast, Famous Grouse, and, of course, Wild Turkey have been, well, peacocking for years.
"Typically, liquor brands in the 19th century were named after a person (i.e., Old Overholt), an animal (i.e., Old Crow), or a place (i.e., Yellowstone)," Matti Anttila, founder of Chicken Cock Whiskey, says.
Perhaps birds gained prominence because there is something about winged freedom, soaring high above the Earth, untethered to the ground below, that reminds people (particularly alcohol marketers) how booze can make you feel. Or maybe it's that many early distillers were hunters. Or bird enthusiasts.
Don't Miss A Drop
Get the latest in beer, wine, and cocktail culture sent straight to your inbox.
What's in a name? A good story, mostly. Here are nine of the best.
Wild Turkey
This iconic bourbon can be traced back to the late 1800s when the Ripy brothers opened a distillery on Wild Turkey hill in Lawrenceburg, Kentucky. But it wasn't until many years later that the Wild Turkey brand was born. In 1940, an executive from Austin Nichols, the wholesale company that purchased bourbon from the Ripys, went out on a turkey hunt with a few friends. He brought along some bourbon samples to share, and the guys loved them. After that, Austin Nichols started calling its whiskey Wild Turkey.
Redbreast
The Irish are also in on the bird-themed whiskey name game. Redbreast is a single pot still Irish whiskey distilled at the Midleton Distillery in County Cork. In 1903, Gilbeys Wines & Spirits Company entered into a partnership with Jameson to supply it with new-make spirit. The name Redbreast first appeared in 1912 when Gilbeys sold "Redbreast" J.J. Liqueur Whiskey 12 Years Old, a reference to the robin redbreast. The chairman of Gilbeys was said to be a bird enthusiast, and the name has signified quality Irish whiskey ever since.
Chicken Cock
Chicken Cock bourbon is an 1856 brand that was recently revived by Grain & Barrel Spirits. Founder Matti Anttila explains that prior to the 1890s, the term "rooster" wasn't commonly used. Instead, male chickens were referred to as chicken cocks, or sometimes just cocks. "When the brand was first created in 1856, the name was not intended to be unusual," he says. "American farmers, in line with their Puritan heritage, started using the term rooster in the late 20th century after the term 'cock' started being used in other ways than just to refer to male birds."
The Famous Grouse
One of the most popular blended malts in the U.K., The Famous Grouse is comprised of whiskey from The Macallan, Highland Park, and other distilleries, along with neutral grain spirits. According to global assistant brand manager Naomi Hassall, 19th-century merchant Matthew Gloag wanted to use an iconic Scottish image for his whisky brand. "Victorians enjoyed leisure time in Scotland and often traveled [there] for hunting, shooting, and fishing," she says. "Matthew's whisky was a firm favorite in the hunting lodges. As more and more people enjoyed his tipple they naturally referred to his brand as 'famous.' Matthew decided to patent his brand as Famous as a result of its word-of-mouth popularity."
Grey Goose
Grey Goose is generally known as a French vodka, but it was actually launched by an American businessman. Sidney Frank of Sidney Frank Importing Company came up with the concept in 1996 and eventually sold the brand to Bacardi in 2004 for a hefty sum. The Grey Goose name supposedly comes from a German wine that Frank was importing. He liked the sound of it and felt it conveyed the right kind of "premium spirit" connotation that he was looking for. Apparently, he was right – Bacardi reportedly paid around $2 billion for the brand.
Kentucky Owl
The lore says that Kentucky Owl whiskey was founded in 1879 and produced at the C.M. Dedman Distillery on the Kentucky River. Prohibition hit, and the whiskey disappeared into the boozy corners of history. But the real story behind the brand is that a man named Dixon Dedman revived his family's whiskey-making history by sourcing barrels from around the state. There have been seven batches and a rye released thus far, with more to come. Stoli Group USA acquired the brand last winter, ensuring that we will be seeing more Kentucky Owl over the years.
Fighting Cock
The origin of this inexpensive Heaven Hill bourbon was likely an attempt to compete with Wild Turkey 101: Its name is similar, and its proof was dialed up to 103. The label has a picture of a bird that is ready to rumble, a much more unrefined image than Wild Turkey's stoic presence, but that's part of the appeal. Fighting Cock whiskey is all about image; the brand refers to itself as both "the bad boy of bourbon" and the "kickin' chicken."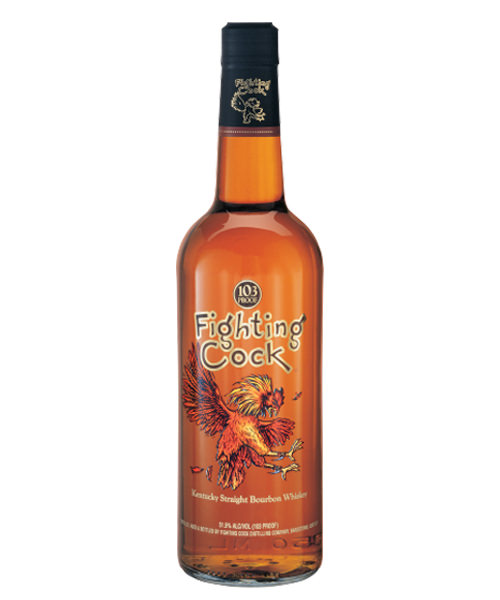 Old Crow
Beam Suntory now owns Old Crow bourbon, but the brand has gone through many iterations over the years. Though the label does have a picture of a crow, the whiskey is actually named after Dr. James Crow, an actual person who came to Kentucky from Scotland in the 1820s and began working in the industry. Some credit Crow with inventing the sour mash process for distilling bourbon. He created Old Crow at the Old James Pepper Distillery (now Woodford Reserve), before moving around to some other distilleries. Ulysses S. Grant was reportedly a fan of Old Crow. Nowadays, it's a drinkable bottom-shelf bourbon – essentially a younger, lower-proof version of Jim Beam White Label.
Eagle Rare
Eagle Rare is distilled at Buffalo Trace today, but the brand was originally a Seagram product. Sazerac purchased Eagle Rare in 1989. According to PR and events manager Amy Preske, the bourbon was introduced in 1975, created by Seagram master distiller Charles L. Beam as a 101-proof, 10-year-old whiskey. Some people point to the ABV and name as evidence that Eagle Rare was an attempt to ride the coattails of Wild Turkey, but that remains conjecture. "We discontinued the 101 proof in March 2005, but kept the 10 year old," she says. "We never changed the name since we love the symbol of the American bald eagle. We see it as a very proud American brand."