St. Patrick's Day is defined by a few things here in America: beer (usually Guinness), drinks (usually Jameson), and all green everything. Sometimes these things mix in a bad way, like with green beer. This year, though, switch things up in a delicious way and drink green St. Patrick's Day cocktails.
We've rounded up nine of the best tasting, fun, and downright enviable St. Patrick's Day-themed cocktails. Sláinte!
The Irish Mule
We all know the Moscow Mule. Some might even say it's one of the most overrated and over- ordered drinks at the bar. Switch it up with Irish whiskey like Fox and Briar did, though, and you've got a whiskey lover's dream: the Irish Mule.
Don't Miss A Drop
Get the latest in beer, wine, and cocktail culture sent straight to your inbox.
Luck of the Irish Shots
Put down the Jameson and pickle juice. If you want a real green shot, try Real House Moms' Luck of the Irish Shots. It's sweet minty green thanks to Andes mints, perfect for sweet tooths and shot-lovers alike.
The Irish Maid
This drink has all the right stuff: Jameson, St. Germain, lemon, honey, and, wait for it, cucumber. Make This Worthey Life's Irish Maid in batches before your night out, and you won't be sorry.
Baileys Martini
Sometimes nothing but a cocktail in some nice stemware will do. If you're in the St. Patrick's Day mood as well as a nice cocktail mood, you're going to want the Baileys Martini from Mantitlement. It's straight alcohol, just like a martini should be.
Drunken Leprechaun
Sugar and Charm describes this gorgeous Drunken Leprechaun as a drink that can change your mind about whiskey. It's a little complicated to make with a Guinness Reduction simple syrup, but it's oh so worth it.
Irish Jello Shots
Jello shots are only appropriate for specific times in specific places. St. Patrick's Day is one of those times, and anywhere you're at on St. Patrick's Day is one of those places. Get ready for the night out with these Irish flag-themed Jello shots from Hoosier Homemade.
The Nutty Irishman
You're going to need a drink after you finish your St. Patrick's Day dinner (corned beef, anyone?). Make it the Nutty Irishman from The Suburban Soapbox. It's a delicious Irish coffee drink (no, not that Irish Coffee) with Frangelico, Bailey's, Kahlua, and coffee.
Sparkling Shamrock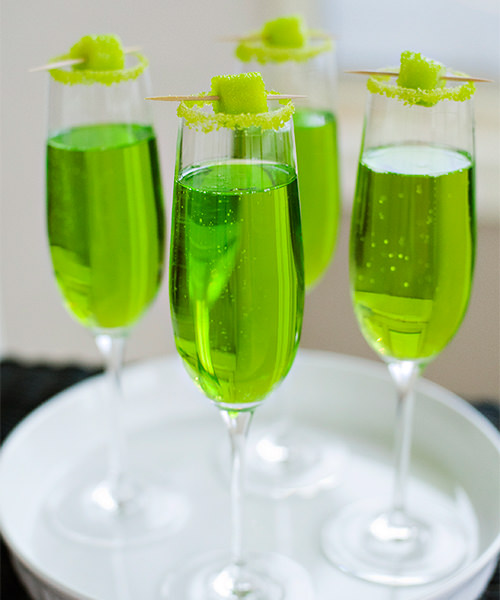 A safe bet on drinks is anything with sparkling wine in it — even on St. Patrick's Day. The Sparkling Shamrock from Pretty Plain Janes is a mix of Midori melon liqueur, honeydew, and dry Champagne. The perfect aperitif for a day of green everything.
Shamrock Juice
Shamrock Juice is green through and through, but it tastes like orange-flavored heaven and is strong as hell. Mix That Drink mixes gin, vodka, rum, tequila, and blue curaçao for a Shamrock Juice that you should probably only have one of.