I'm sitting alone at the end of the upstairs bar of a Chili's in New Jersey. It's 7:30 p.m., and I came to taste every single one of the 12 Margaritas on the menu. Before I leave, I'll have consumed at least 1,200 calories in drinks alone and made friends with the best bartender I know. But it's best to start at the beginning.
Margaritas are the ever-present companion of the cocktail world. They're on the menu of every chain restaurant, every dive bar, and every off-color, Mexican-themed restaurant. There's no guarantee the Margarita at these joints will be good, but it'll be there. Enter Chili's Grill and Bar, where saying the chain has a Marg on the menu is like saying New York City has a couple of tall buildings. "No one knows Margaritas like we do," the chain self-professes at the beginning of every menu.
It was a claim big enough to catch VinePair's attention, so I put it to the test. I traveled from Manhattan to New Jersey (there are surprisingly zero Chili's in New York City) to drink every Margarita on the Chili's menu.
Don't Miss A Drop
Get the latest in beer, wine, and cocktail culture sent straight to your inbox.
My Chili's of choice was a cookie-cutter Chili's. If you've been to one, you've been to them all, which is a sort of reliable consistency that should, in theory, also be in the drinks. TVs line the back wall of the bar, and red booths line the restaurant space. I only had to flip one page of the 18-inch, laminated menu to find the El Dorado of Margarita lists: 12 Margs running down the page in two columns. Gold.
It's the type of gold that breeds regulars. Two guys in their mid-30s, who I'll call James and Mike, sat down next to me at the bar. James wore a flat bill Philadelphia 76ers hat, Mike a Raiders hat. They didn't even need to see the menu. They wanted the drink they saw in an email promotion they received: the new 48-hour flavor infused Blueberry & Pineapple Margarita special.
"Before you guys order anything else, I'm about to order every Margarita on the menu," I warned them.
They laughed, but looked (reasonably) skeptical. So I repeated myself when the bartender, who I'll call Kari, came over.
"My boss sent me here to try every Margarita on the menu, so I'll take one of each," I announced. "I can start from wherever you think is best."
She paused for a couple seconds, then let out a "YAAAAAAAAAS!" loud enough to turn the heads of people 30 feet away at the other end of the bar.
Game. On.
After three hours in a Chili's and 12 Margaritas, here is the totally subjective-yet-definitive ranking of Chili's Margaritas, from worst to best.
12. Tito's Vodkarita
For a restaurant that claims to know Margaritas best, I was a little confused when I saw a Tito's vodka "Margarita" on the list. Then I took a sip and my confusion went off the charts. I felt like I didn't know what sugar tasted like until I tasted the Tito's Vodkarita — and this was my fifth Chili's Margarita.
Vodka does nothing for this drink. It tasted more like sugar than sugar tastes like sugar. Plus, vodka doesn't belong in a Margarita. Kari and the Chili's environment were the only thing that kept me having a good time while this drink was in front of me.
11. Sauza Watermelon Margarita
For the sake of complete transparency, I have to tell you that this was the second-to-last Margarita I had and my tastebuds were somewhat shot. James and Mike abandoned me right as this one was coming in, walking away from the bar shaking their heads while saying, "He needs too much saving now." The drink wasn't entirely awful; it just tasted like liquid watermelon Jolly Rancher. So if that's your thing, then the Watermelon Margarita is your thing. No tequila taste, just watermelon Jolly Rancher.
10. Triple Berry Margarita
If you've smelled blueberry hookah, then you are familiar with the taste of the Triple Berry Margarita. I got looks of disbelief when I said that out loud, but after every sip I thought the same thing — from the deep pomegranate color to the fruity taste, it was blueberry hookah all the way. It was sweet with just enough sour to make my mouth salivate, but not drippingly so. The blackberries and blueberries sank to the bottom, but were so worth digging out.
9. Tropical Sunrise Margarita
This drink came accompanied by screams of, "Is he really drinking all those drinks?" and "YEEEEAAAAH BOIIII" from a group of five women at the other side of the bar. Kari stepped in to defend me, but not before someone slipped in a "You better be a runner!" After tasting the Tropical Sunrise Margarita — which tastes like a Tequila Sunrise hunch punch with melon liqueur and pineapple — I have to agree. I should take up running.
8. Presidente Margarita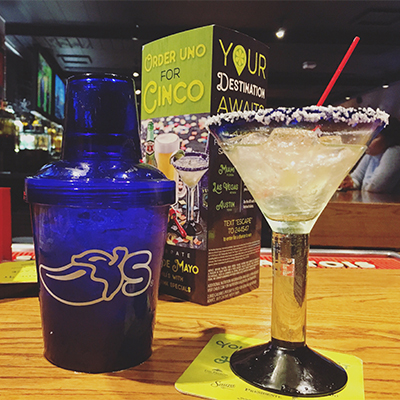 This is Chili's flagship Margarita. Hell, the drink even comes on tap. It's sweet and boozy with a little lime and rock salt on the rim. The brandy comes out more than the tequila taste. It's playing to everyone who goes to Chili's and doesn't know if they like Margaritas yet, so not too much tequila, lime, or salt. Mostly just sweet.
7. Platinum Presidente Margarita
This was the second Margarita I ordered, and I was still getting acclimated to the task. Like the comparatively plebeian Presidente Margarita, it's a Chili's standard. There was fresh squeezed lime juice in this one though, as well as anejo tequila instead of blanco. It's still sweet, but the lime comes through more. I let it sit in my mouth for a bit and I got somewhat of a tequila taste. Welcome to the land of average tasting Chili's Margaritas.
6. Coronita Margarita
I hit drink number eight, the Coronita Margarita, with some hesitation. But at this point I was just happy there was a beer in sight. It was exactly what I needed. The Corona balances the sweet out, and (depending on how many Margaritas you've consumed prior) it's entertaining to watch the miniature Corona empty as the drink sinks. The regular across from me who took a picture of me and my Margs loudly proclaimed to Kari that my drink was making him reconsider his order. Not the worst choice he could make judging by his draft Bud Light. The Coronita Margarita is less cloyingly sweet thanks to the beer, and it's extremely drinkable.
5. Blueberry & Pineapple Margarita
This is the drink that James and Mike came for, only to be told Chili's was out of it. Yet as I finished testing my 11th Margarita, Kari brought out a final-hour surprise: There was just enough Blueberry & Pineapple Margarita left over for me to try. Better than the Triple Berry, but still a little hookah-tasting. James and Mike, if you're out there, it's worth going back for next time you're in the area.
4. Patrón Margarita
The most premium of the Chili's signature cocktails. It's loaded with Patrón tequila and Patrón Citrónge. It's served in a small glass with a little mock Patrón bottle holding the leftover Margarita so you can refill whenever you want.
3. El Niño Margarita
Now we're getting into serious Margarita territory. Of the more purist Margs on chili's menu, the El Niño is by far the best. It's a little salty on the inside, but in a good way. It also tastes like crisp apples and comes with both a lime and an orange slice.
By this point in the evening (Marg No. 9), everyone was looking at me like a deplorable human being. Someone behind me said, "He needs to take a nap." Quietly, but just loud enough for me to hear. If I could have gone back, I would have ignored that person's advice and taken my own advice: "Don't waste stomach space on the family-sized nachos." I would get multiple El Niño Margaritas if I were here solely for fun, but I had work to do.
2. Jimador Fresca Margarita
I love fresh cocktails, and nothing screams fresh like cucumber. So I don't care that the Fresca Margarita is served in a pint glass instead of a Margarita glass. Or that the lime slice on the edge looked like it had gone three rounds with Floyd Mayweather. Or that the muddled cucumber had some mushy pieces. This drink has a good, balanced flavor. It might be because Kari is the ultimate bartender and I wouldn't trust anyone else making my drinks at Chili's, but this is one solid drink as far as Chili's Margs go. The cucumber brightens it up, the salt evens it out, and it goes down like cucumber water on a hot day next to the pool.
1. Spicy Sauza Jalapeño Margarita
This is the best Chili's Margarita. When I took my first sip, I struggled with whether to put this one above the Fresca. James and Mike wouldn't touch it. Kari said people generally stay away from it. But I was sure of my choice putting it at the top of this list by my second sip. It's balanced between sweet, salty, spicy, and boozy. I took a bite of one of the four jalapeño slices (seeds and all), and it is indeed fresh jalapeño. Every time the spice takes your taste buds out of orbit, the sweetness draws them back in. It's not overwhelming, but it's there. It's definitely there.
This drink made the initial 35-minute journey from Manhattan to New Jersey worth the trip. It was good enough to make me forget the calorie content listed next to each drink. It was good enough to keep me content on the ride back to Manhattan after spending the entirety of my Tuesday night at a New Jersey Chili's. This is the best Margarita at Chili's, the chain restaurant that defines itself by its Margaritas. It's more than that. It's a solid Marg in general.
There you have it. Everything you need to know about how Chili's Margaritas taste. What this can't tell you, though, is the bonds people build — both regulars and first-timers. Will you find the best Margarita you'll ever have at Chili's? No. But you will find people so blissfully unconcerned with snooty cocktail culture that even the most average of Margaritas tastes satisfying.
Who knows? You may even find your favorite Margarita on the menu. My bet says it'll be the Spicy Sauza Jalapeño Margarita.