"I always wanted to be a cowboy," says James Arthur Rackham, the man behind Daddy Rack, a new Tennessee whiskey brand. He was born above his father's liquor store on London's Portobello Road and since then, he has spent 40 years working in blending and selling spirits internationally. Making an American whiskey was always a dream of Rackham's — and now, he's done it.
It's a category that has enjoyed a boom in the U.K. in recent years. In 2018, 27.6 million bottles of American whiskey were exported to the U.K. (twice as much as 10 years prior and despite a recent 25 percent tariff). It's mooted that come 2028, sales will have doubled again. Brits, it seems, just can't get enough of the stuff.
English distilleries are spitting out rye faster than a hammer mill, U.S.-U.K. collaborations are bringing the likes of Sonoma to East London, and even premium U.K. wine merchants are getting in on the action.
Don't Miss A Drop
Get the latest in beer, wine, and cocktail culture sent straight to your inbox.
The real thing
Rackham's dungaree-clad promo shot for his new small-batch whiskey says it all: This man has fully embraced his entry onto the American whiskey books. Daddy Rack may be a product born of an Englishman's mind, but it is in fact made in an undisclosed distillery in Tennessee. Using copper double-distillation, locally farmed corn is used in a 72-hour sour mash before undergoing the famous Lincoln County Process and maturing in new, charred American oak. Rackham hand-selects 20 barrels from across the rackhouse to use for Daddy Rack's signature whiskey based on color, vanilla notes, and congener expression. These whiskeys go through a second filtration and then, they're blended — no caramel, no coloring.
Launching his whiskey in America understandably came with a degree of sensitivity. "We had to be modest," says Rackham of making a Tennessee whiskey in its birthplace. The British-owned brand could have ruffled some American feathers, but luckily, Daddy Rack was welcomed with open arms. As Daddy Rack enters the U.K. market, there's also a growing audience ready to try a U.S. export from a British palate.
Another person bridging the Atlantic via whiskey is Alex Wolpert of East London Liquor Company (ELLC). The distillery's latest collaboration is with Sonoma Distilling Co.'s bourbon which, when blended with ELLC's London Rye, creates a bottling called 2021 East London Blend. Wolpert has been importing Sonoma Distilling Co. founder Adam Spiegel's whiskey for the last five years, but it was a road trip to California that inspired Wolpert to visit the distillery, meet Spiegel, and embark on a relationship to celebrate what can be done when it comes to blending whisky.
"[Adam's] liquid is singularly distinctive and really well made," says Wolpert. "His take on both bourbons he makes [is] he has a high rye and wheat bill so we thought, how can we make a third component which might give it something very new and very different?"
Rye is king
Wolpert's approach to whisky is one that celebrates and supports the growing contemporary whisky canon. His launch into the rye whisky space back in 2018 has led the ELLC to gear up for a crowdfunder this year to help grow its capacity to make whisky.
He isn't the only one turning out rye whisky in the U.K., either. As award-winning spirits educator and Tales of the Cocktail education committee member Hannah Lanfear points out, people making rye whisky outside the U.S. have an advantage. "For those making rye in the U.K., it proposes quite an interesting set of possibilities because the legislation isn't as restrictive. You can play with it, and I think English whisky at this moment has an opportunity to define itself in the hands of these new distillers," she says.
Wolpert also nods to the advantages of having this freedom, both in practical terms and also as a way of bringing the flavors and textures he associates with rye, like spice and chewiness, to the forefront. "In America, rye needs to be at least 51 percent of the total mash, but we've been playing with the mash bill and found that sitting under 50 percent gives us the characteristics we want to celebrate," he says.
Heading northeast from London, The English Whisky Distillery has made a Malt 'N' Rye as part of its The Norfolk range, and using a combination of malting barley and rye while aging in bourbon casks. Slightly farther southeast, The Oxford Artisan Distillery has just launched its Oxford Rye.
Master distiller Chico Rosa is bringing rye — once a common grain in 1800s Oxfordshire — into its new expression, using 70 percent rye, 20 percent wheat, and 10 percent malted barley. It's no accident that the team has entered the rye whisky market — its co-founder and previous master distiller Cory Mason is American — and Rosa is excited to bring the terroir of Oxford's local rye into the style. "It's cool to see all this at some point as a revival but also as celebration of what can be done and different ideas," he says. For Rosa, terroir is especially important when it comes to the local rye used at the distillery. This rye has been germinated from small amounts of original seedlings found in the area, and the type of rye that is grown is a hybrid with other cereals grown in the area. Combine that with local weather conditions — plus climate change — and the rye used to make Oxford Rye has a thumbprint entirely unique to the area, time, and place, while still remaining reminiscent of its American counterparts.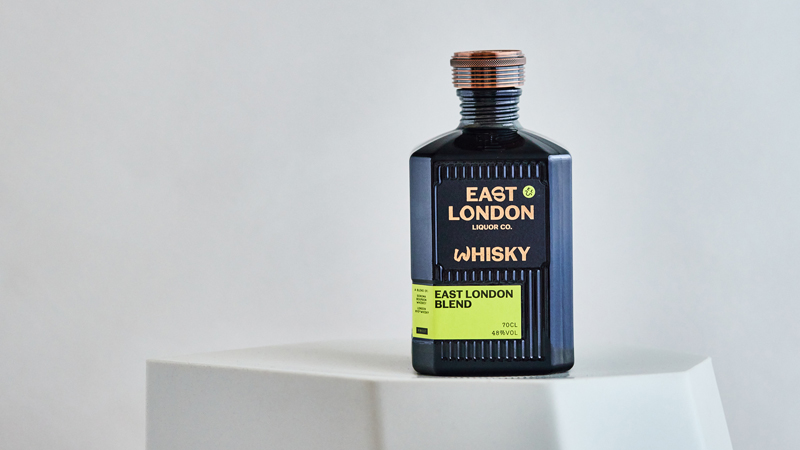 Grape to grain
While distilleries are leading the charge when it comes to defining a U.K. style of rye, the British wine world is embracing and recognizing the quality of American whiskeys, too. Jeroboams, a prestigious and historic London wine merchant, has just released its first exclusive spirit — and it's not a Scotch, an Irish whiskey, nor an English whisky as one might expect from a European brand. Instead, its first exclusive spirit is a rye whiskey from Whistlepig, a distillery based in Vermont.
It's an unusual choice, one that will no doubt raise eyebrows in the U.K. industry. Yet James Phillips, Jeroboams' beer and spirits buyer, sees the growth of rye whisky in the U.K. as an example of quality and prestige." Rye whiskey has seen a huge resurgence over the last few years as new craft distilleries throughout the USA and Canada — even the U.K. — revive what has historically been an incredibly important grain to their spirit heritage," he says.
Perhaps the American Dream seeping into the U.K. whisky industry is (un)consciousness. Or perhaps British distillers are tearing up the rule book and embarking on their own revolution. One thing's for sure: Imbibers across the pond are going to be drinking some damn good whisky.