While all that glitters certainly isn't gold, and you absolutely shouldn't judge a book by its cover, there is something to be said for creative packaging. In fact, some wine and spirit bottles are bona fide works of art. From storied Champagne houses, to limited-edition bourbon housed in fine crystal, here are nine of the most beautiful bottles on the market today.
Rare Le Secret High Jewellery by Rare Champagne
Historic jeweler Mellerio created the glittering Rare Le Secret High Jewellery bottle for Piper Heidsieck. As of October 2018, there were only 10 bottles of the zero dosage Champagne on sale worldwide, "including a diamond and sapphire edition in the US and a diamond version in France," The Drinks Business reports. The exterior was inspired by Marie-Antoinette's lavish gowns, and features interlaced platinum and yellow-gold threads. The 1997 bottling is known as the "secret" vintage because so few were made: Working behind closed doors, cellar master Régis Camus blended a very limited quantity of this Champagne and stored it in Magnums. Average price: $140,000.
Chambord
This regal bottle was originally designed to contain a liqueur called Forbidden Fruit and patented circa 1904. The bottle shape was inspired by the globus cruciger, a Western European symbol of royalty. And so it suits Chambord, a black-raspberry liqueur reportedly created to commemorate the French royalty who visited the Loire Valley in the 17th century. Today, elements of the bottle — such as the gold label and crown-like details — link Chambord to its château-studded, Loire Valley roots. Average price: $31. (750ml).
Don't Miss A Drop
Get the latest in beer, wine, and cocktail culture sent straight to your inbox.
Louis XIII de Rémy Martin Grande Champagne Cognac
This Cognac has an epic back story. It starts in 1569, when a metal flask was lost on a Jarnac battlefield. Then, in 1874, it was (miraculously!) found, and so cellar master Paul-Emile Rémy Martin used the shape and style as a model for this bottle named for Louis XIII, protector of the Cognac region. This spirit was featured on the menus of the Orient Express in 1929, and, in 1994, Charles de Gaulle ordered it to celebrate Christmas in newly liberated France. The case is a rich red leather, with a mirrored inside and pillowy satin. Average price: $3,999.
Rochelt
As legend has it, some 200 years ago, an apprentice at a glass-making factory in the small town of Hall, near Innsbruck, accidentally picked up a bottle with his metal pincers by accident while the glass was still soft. The resulting "pinch" gave birth to the now-signature Tyrolean glass "pincer" bottle shape. Rochelt's glam versions contain its traditional fruit brandies and feature stoppers designed by German goldsmith Otto Jakob. Their slightly loose fit enables the brandy to continue maturing once the bottle is opened without losing any of its natural flavors. Average price: $500 (375ml).
Perrier-Jouët Belle Epoque Rosé
In 1902, Perrier-Jouët collaborated with Art Nouveau pioneer Emile Gallé to create the bottle for this prestige cuvée. Anemone flowers adorn the bottle as a nod to the importance of nature for both the 1811 Champagne house and the Art Nouveau movement, and the bottles are hand-painted to this day. Average price: $300.
Clase Azul Reposado
Every Clase Azul Reposado bottle takes two weeks to make by hand and is modeled after table legs (Clase Azul founder Arturo Lomeli reportedly came up with the idea following a particularly inspiring meal). In keeping with Mexican tradition, the ceramic bottles are painted blue and white — the blue symbolizes blue Weber agave. Average price: $110.
Volcán de mi Tierra Blanco and Cristalino
The shapes of SIP-award-winning Volcán de mi Tierra bottles were inspired by the "tequila volcano" in Guadalajara's agave fields, and the copper cap is an homage to the copper stills used to make the tequila in Jalisco, Mexico. Average prices: $45 (Blanco) and $70 (Cristalino).
Woodford Reserve Baccarat Edition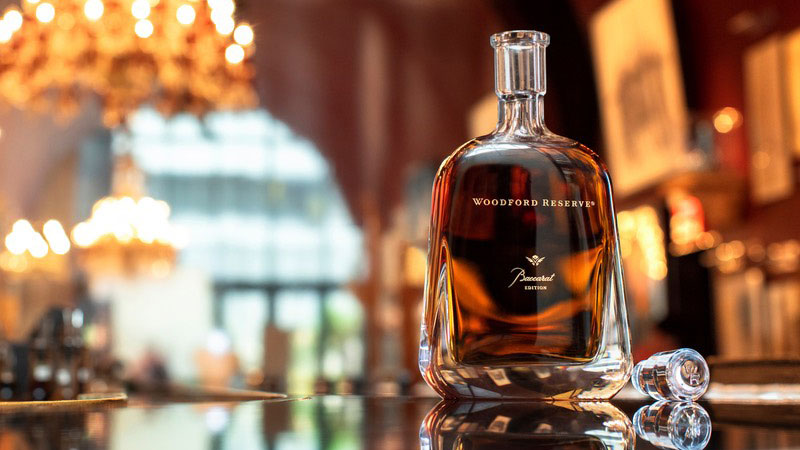 Only available at select duty-free shops at airports worldwide, this crystal bottle from France's legendary Baccarat has an elegantly elongated version of Woodford's standard shape and comes packaged in a red box with infinite bragging rights. The bourbon itself is aged in American oak and then finished in XO Cognac casks for an additional three years. Average price: $1,500.
Grand Mayan Ultra Aged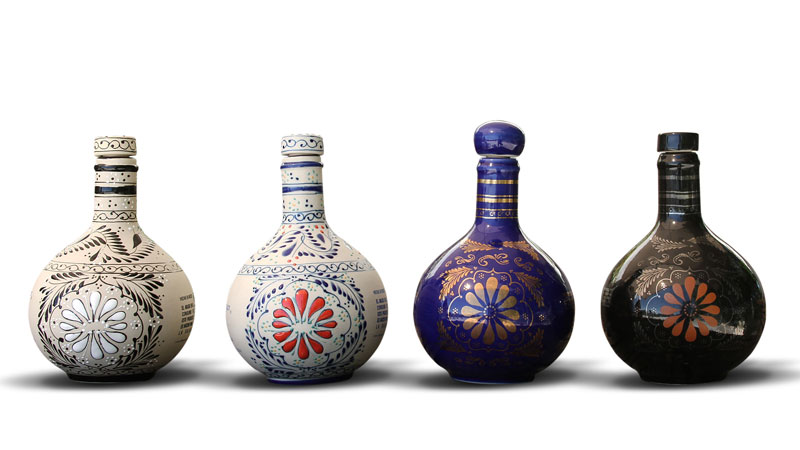 This 100 percent ultra-aged, central highland blue agave tequila has an eye-catching ceramic bottle designed by founder Carlos Monsalve. Bottles are hand-painted by artists in Mexico City, and each element has meaning: The flowers represent life, and the painted leaves depict the balance between "our relatives and the people that we have met in our life," according to the brand website. Average price: $80.