OMGourd, it's that time of year again.
We're talking, of course, about pumpkin beer season. Whether you consider the increasing seasonal creep of pumpkin and pumpkin spice products to be a cruel trick or a wonderful treat, with fall in full swing, it's the perfect time to examine the category of beers that showcases the gourd in all its glory.
So, what pumpkin beers should you seek out this fall — or winter, or next summer, too?  Since there is so much creativity and diversity within the class, we consulted a dozen brewers across the U.S. Some of the brewers below have created what are widely considered to be among the pumpkin beer style's finest examples, so we trust them to help us find the best to pick from the patch.
Don't Miss A Drop
Get the latest in beer, wine, and cocktail culture sent straight to your inbox.
The Best Pumpkin Beers Recommended by Brewers:
Cigar City Brewing Good Gourd Imperial Pumpkin Ale
Weyerbacher Imperial Pumpkin Ale
UFO Pumpkin
Dogfish Head Punkin' Ale
Odyssey Beerwerks Fluffy Pumpkin
Flying Dog The Fear
Cambridge Brewing Co. The Great Pumpkin Ale
Allagash Brewing Company Ghoulschip
Bravery Brewing Pumpkin-Apple Pie
Griffin Claw Screamin' Pumpkin
Southern Tier Brewing Co. Warlock Imperial Stout
Avery Brewing Co. Rumpkin
Keep reading for details about all the recommended pumpkin beers!
---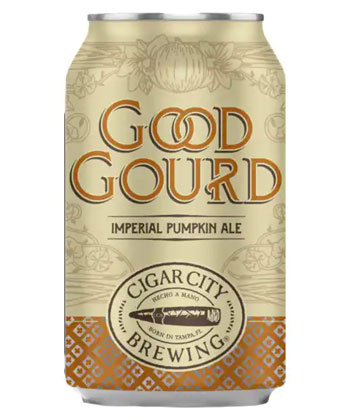 "Cigar City's Good Gourd is my autumn-atic choice. Its flavor profile is the epitome of the fall season: pumpkin pie, brown sugar, and cinnamon spice. It's a great, cozy offering going into the colder months, and the high ABV makes it the perfect sipper by a bonfire. It's a favorite among all of the brewers here, and was actually the inspiration behind our new pumpkin beer, Big Mother Pumpkin." —Adrian Hot, Head Innovation Brewer, Blue Point Brewing Co., Patchogue, NY
"Weyerbacher's Imperial Pumpkin is the OG to me. Big, with caramel and spice flavors. It really set the bar." —John Trogner, Co-owner and Brewmaster, Troegs Brewing Company, Hershey, Pa.
"UFO Pumpkin has a hefeweizen base, which isn't very common. And that's kind of why I like it. I find a lot of pumpkin beers can be overwhelming with spices, causing them to be astringent. But this is smooth and refreshing, with a great balance of flavor and aroma of pumpkin pie, allowing you to have more than just one. When fall comes around, I always make sure to pick up some." —Tyler Schaefer, Lead Brewer, Tampa Bay Brewing Company, Tampa, Fla.
"I love Dogfish Head's Punkin Ale, because it's a mildly sweet pumpkin beer that isn't overloaded with spices. There is a nice balance of pumpkin and cinnamon flavor; great fall beer." —Sarah Kaneshiki, Brewer, Stone Brewing Company, Escondido, Calif.
"My favorite pumpkin beers are dark, stouts or porters, and Odyssey Beerwerks' Fluffy Pumpkin, a toasted marshmallow porter, hits all the marks for me. The spices are balanced nicely and the smoothness of the porter brings it all together. The perfect fall campfire beer." —Josh Grenz, Co-owner and COO, Verboten Brewing & Barrel Project, Loveland, Colo.
"If I'm going to have a pumpkin beer I gravitate towards versions whose base beers are porters or stouts. Flying Dog from Frederick, Md. makes a great dark pumpkin beer, called The Fear. It comes in at 9 percent ABV, so this is really a sipping beer that I would want to enjoy as a dessert instead of with dinner. We used to make a pumpkin beer every year that was a riff on our Ponch's Porter recipe, called Ponch's Patch. We decided to discontinue it in 2017, but who knows, maybe it will be back one day!" —Julie Verratti, Founder and Chief Brand Officer, Denizens Brewing Co., Silver Spring, Md.
"After brewing in New England for several years, there is no escaping pumpkin beer. Every year more ridiculous beer comes out, so who cares about a pumpkin anymore? If I'm drinking it, it's going to be Will Meyer's [The Great Pumpkin Ale] at Cambridge Brewing Company. He has been hand-chopping pumpkins and making it the same wonderful way since I was in diapers. I'm actually craving some now. Will, mail me some!" —Kelly McKnight, Pilot Brewer, New Belgium Brewing Company, Fort Collins, Colo.
"Allagash has a way of elevating the bar on lots of different beer styles, and the brewery's annual Halloween-released Ghoulschip is no different. Using pumpkin in the mash as well as molasses in the boil lends to subtlety in the flavor instead of the common in-your-face artificial flavor in pumpkin beers. Ghoulschip is also partially coolshiped, aged in oak, and then blended in a gueuze-like fashion. It's acidic, funky, and complex, with a backdrop of those fall flavors we love on a cool autumn day. Such a balanced, inventive, and nuanced take on this style, and that's why I love it." —Parker Hall, Lead Brewer, Orono Brewing Company, Orono, Me.
"Bravery, a smaller brewery in Lancaster, Calif., makes a pumpkin beer with Belgian dubbel as the base, which I love. The dubbel style gives Pumpkin-Apple Pie more depth and allows its spices — cinnamon, clove, ginger, nutmeg — to really shine through. It's also the only pumpkin beer I've had with apple cider in it." —Adrianna Hodapp, Brewer, Three Weavers Brewing Company, Inglewood, Calif.
"It's a shame so many pumpkin beers are spiced to death. Alone, pumpkin gives a great mouthfeel with a subtle flavor. But every pumpkin beer seems to be overly spiced. So, I don't go out of my way to drink one, nor do I ever order one. It's not about being anti-hype; I truly hate the spice. But there are a few pumpkin beers that come to mind without that overly spiced flavor, one being Screamin' Pumpkin from Griffin Claw. I went and bought some recently just to refresh my palate, and what I said still applies: It's not overly spiced, [and] has a nice mouthfeel. It almost drinks like an Oktoberfest, but with a heavier body. [It] has that mineral-y taste that goes along with it. The spice is in balance, and the mouthfeel is spot on." —Rob Qualls, Head Brewer, City Built Brewing Company, Grand Rapids, Mich.
"Warlock [Imperial Stout] from Southern Tier is rich, balanced, and packed with flavor. Its sweet undertone sets it apart, with its slight caramel character to add an unexpected candy-like note, along with the pumpkin. And, it's as dark as a porter, so the roasted malt flavors seem to complement the pumpkin spices. It also has significant body, making it creamier and fuller than most others I've had." —Fred Karm, Founder and Brewmaster, Hoppin' Frog Brewery, Akron, Ohio
"As preparation for our Great Pumpkin Beer Festival, I personally check each of our 80-plus beers before we open, and each year I look forward to Avery's Rumpkin as a special treat. Big, strong, malty, and incredibly smooth for a 16.3 percent ABV pumpkin beer, the burnt sugar and rum, from barrel aging, are beautifully balanced by the pumpkin and spice aromas. Outside of that, I was able to have a pumpkin beer in Austria that was such a clean, simple, and perfect beer with only accents of pumpkin, and no spice. Nestled inconspicuously along the route from Salzburg to Budejovice is a small brewery steeped in German brewing skill — it is just over the Bavarian border — but not bound by tradition. The Brauerei Hofstetten produces an incredible organic pumpkin lager, Bio Kürbisbier. Technical precision and care showcase the peppery smoothness of several local pumpkin varieties in this bright and perfect bock. A perfect encapsulation of drinking in cooler climes." —Josh Waldman, Head Brewer, Elysian Brewing Company, Seattle, Wash.