This quarantine has us pondering a lot of things, one of the main ones being how much we miss enjoying a great dram of whiskey out with friends. Just because social outings have been traded for Zoom calls doesn't mean you can't bring the finer parts of the bar to you.
Here's everything you need to create a little whiskey heaven in your own house.
SPIEGELAU BOURBON TASTING GLASS (SET OF 4)

If you're a Bourbon lover, you need these Bourbon Tasting Glasses. Period. These are larger than traditional snifter glasses, and fully open up the bourbon in your glass. We were skeptical at first, but just to make sure we tried the same bourbon side by side in one of these glasses, next to a standard rocks glass and traditional snifters: these won, no contest.
GEOMETRIC CRYSTAL SPIRITS DECANTER

Decanters are a great way to show off your house blend when entertaining. This eye-catching Geometric Crystal Decanter has twenty triangular sides, meaning it's a low-tech light show in a bottle. Rest it upright or on its side, and let it show off the hue of your favorite spirits.
THE FOUR HORSEMEN T-SHIRT

Can you brave a Four Horsemen shot? It traditionally contains Tennessee Whiskey, Bourbon, Scotch and Irish Whiskey, is named for the four horsemen of the apocalypse, and has always contained the four most famous spirits that begin with the letter J. This shirt makes it look like you can (hangover not included).
VINTAGE CRYSTAL SPIRITS DECANTER

A decanter says a lot about your style. If you're more of an "I want my decanter to look like I took a time machine to the 1800s and stole it from Rockefellers," this Vintage Crystal Spirits Decanter is calling your name. Instantly elevate the whiskey of your choosing with its refined splendor.
YARAI DOUBLE ROCKS GLASS (SET OF 6)

You've probably seen these glasses in the top craft cocktail bars across the globe. The glass's design harkens back to a bygone era when cocktails and jazz ruled the day. Since these were designed for professional bars, they are incredibly durable, so you can put them in your dishwasher at the end of the night.
MID CENTURY MODERN BAR CART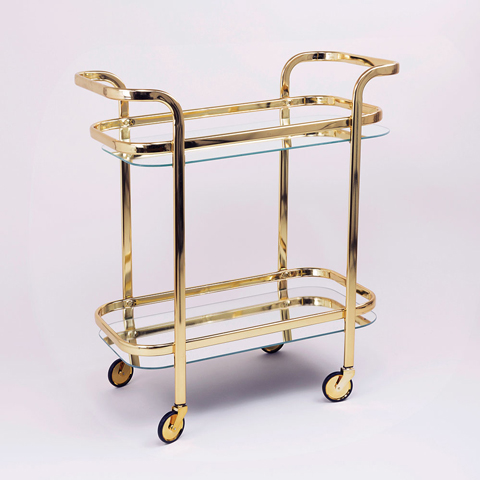 When minds wander at home, you begin to become acquainted with your surroundings. Maybe that end table would look better on the other side of the room? Or maybe there's a better way to organize the bottles of bourbon you've been "collecting" for the past few years. This bar cart is the perfect place for all of your drinks essentials and, because it's on wheels, is ready the twelve times you're going to move it to find the perfect spot.
See The Cart Now!