Gifting for people who love whiskey, bourbon or Scotch sounds simple but is actually a hard feat to accomplish. Whether you're shopping for that special someone who loves brown spirits or shopping for yourself, here are five deals you don't want to miss out on and are bound to please.
CRYSTAL SCOTCH GLASS (SET OF 2) – $20.30 (ORIGINALLY $29)
Ready to take your Scotch seriously? These Crystal Scotch Glasses were designed to amplify those the layered aromas of any bottle you pick up, completely taking your sipping experience to the next level. These glasses are also great for appreciating a well-crafted aged tequila.
VINTAGE INSPIRED CRYSTAL SPIRITS DECANTER – $33.60 (ORIGINALLY $48)
A decanter says a lot about your personal style. If you're more of an "I want my decanter to look like I took a time machine to the 1800s and stole it from Rockefellers," this Vintage Crystal Spirits Decanter is calling your name. Instantly elevate the whiskey of your choosing with its refined splendor.
YARAI DOUBLE ROCKS GLASS (SET OF 6) – $22.40 (ORIGINALLY $32)
Used in the top craft cocktail bars across the globe, the glass's design harkens back to a bygone era when cocktails and jazz ruled the day. Since these glasses were designed for professional bars, they are extremely durable, so you can put them in your dishwasher at the end of the night.
THE FOUR HORSEMEN T-SHIRT – $19.20 (ORIGINALLY $28.50)
Can you brave a Four Horsemen shot? It traditionally contains Tennessee Whiskey, Bourbon, Scotch, and Irish Whiskey, is named for the four horsemen of the apocalypse and has always contained the four most famous spirits that begin with the letter J. This shirt makes it look like you can (hangover not included).
MID CENTURY MODERN BAR CART – $161.00 (ORIGINALLY $230)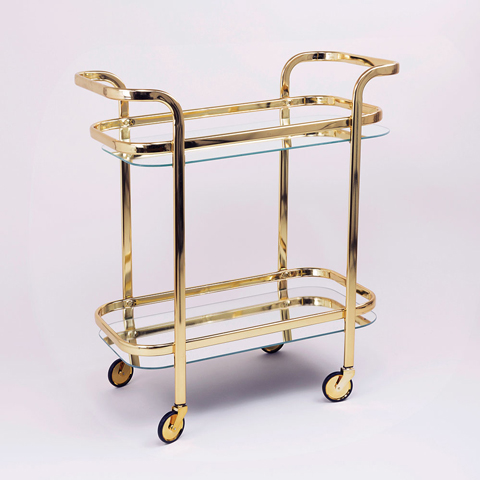 We've never met a whiskey drinker who didn't have an issue storing their collection of bottles. This sleek bar cart has gold plated, stainless steel construction which is very sturdy (but still lightweight to move around if needed) and the mirrored shelves properly accentuate your prized bottles and bar tools, creating a focal piece in your living or dining room that's a real showstopper.