On Dad's day (and every day), Dad deserves the best. If dad loves whiskey, beer, or wine, these gifts are what he needs (and wants). See our picks of specialty glassware, gadgets, and gifts for the dad who loves drinks below.
WHISKEY
The Hero/Rebel Double Rocks Glasses

If Dad is a whiskey-drinking history buff, this set of glasses will be just the thing. Made in partnership with the Colonial Williamsburg Foundation, each glass represents a founding father. Hero = George Washington, Philosopher = Benjamin Franklin, Diplomat = John Adam, Rebel = Thomas Jefferson. Each glass was made and sand-etched in the United States and, in true American fashion, is dishwasher safe. Each glass holds 14 oz—the perfect size for a negroni or old fashioned.
Geometric Drinks Rocks

Dad, as a seasoned whiskey drinker, likely already knows that you've got to be careful with your ice ratio. Too much and it can over dilute your drink, turning a great single-malt into something watery and spineless. But, a bit of water is scientifically proven to improve a lovely dram.
Let Dad control his own dilution with this set of Geometric Drinks Rocks, hewn from marble and soapstone. Each is finished by hand and fits easily into a standard rocks or Old Fashioned glass. With these, you chill down your whiskey and then add as little or as much water as it takes to make your perfect sipping ratio. When these aren't making Dad's drink look modern and elegant, they'll do the same for his bar.
Glacier Whiskey Glass

Another eye-catching way to keep Dad's whiskey cool: this Glacier Whiskey Glass. Dad can throw it in the freezer to activate the built-in cooling gel, then pull it out whenever he needs a cold glass of whiskey. Holding six ounces, this clear double-walled glass keeps things chilly while looking suave.
Glencairn Whisky Tasting Glasses

If Dad delights in sensory analysis, consulting his whiskey flavor wheel and agonizing over whether the color is pale gold or yellow gold, get him this set of Glencairn Whisky Tasting Glasses, designed by Scotch pros to enhance the drinking experience of any single-malt imbiber.
This lead-free, dishwasher safe set starts out with a solid base—tall enough so Dad's not warming up his drink with the heat of his hands but stout enough that it's a proper dram. The tapered mouth keeps sipping simple—not something you find in a typical nosing glass—while keeping the bouquet prominent. The wide bowl keeps the color the star of the visual show. Dad's nightly Scotch has never looked or tasted better.
Etched Globe Whisky Decanter and Glasses

You could get Dad a globe for his office (classy), but here's one better—an Etched Globe Whisky Decanter and matching Etched Globe Whiskey Glasses (classy AND practical). What looks like a spinning globe is actually a spinning, removable spirits decanter, complete with a protective cork stopper. The unique design of the etched glass, crafted from lead-free borosilicate glass, is eye-catching and a great way for Dad to see the world in the comfort of his own home.
BEER
Beer Cap Maps

Keep track of Dad's favorite brews with the mountable US Country And State Beer Cap Maps. Available in either the shape of the USA or of Dad's favorite state, these handmade maps are cut to fit most standard beer caps and will commemorate great times spent enjoying great beer.
Spiegelau IPA Glasses

If Dad's an IPA lover, get him these beautiful, Crystal IPA Glasses. They were designed with help from master craft brewers to amplify the aromas of his favorite beers and will look stunning on his home bar.
The Expert's Beer Log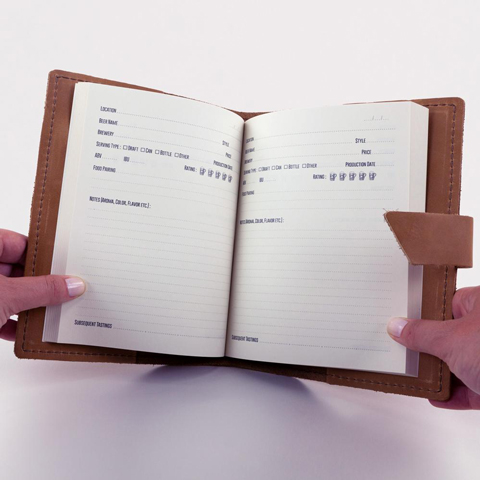 If Dad's a burgeoning beer expert, help him keep track of his tasting notes with this gorgeous Expert's Leather Beer Log, made to order from top-grain cowhide in a range of elegant shades.
A favorite of our beer expert, Associate Editor Cat Wolinski, this sturdy log is stunning, yes, but also breaks down the tasting experience into an easy-to-chart format, even prompting for technical details like the production date and how the beer was served. With room for 192 logs, Dad can chronicle his tasting experiences for many brews to come.
Glacier Beer Glass

Dad doesn't have to be a beer geek to know that warm beer is a bummer. Ensure that Dad's pint is always frosty with this Glacier Beer Glass, which can be thrown in the freezer until Dad's ready to drink from it. Thanks to its double-walled design with built-in cooling gel, this clear 16-oz glass will keep Dad's beer chilly in all seasons. Cheers to cold beer!
Wall Mounted Bottle Opener

This Wall Mounted Bottle Opener, made from sturdy wrought iron, is easily mounted to any wall for whenever Dad needs to crack a cold one. The cast iron construction makes it feel like an opener appropriate for John Wayne, and it's easy open design makes opening Dad's favorite brew simple.
WINE
Wine Breather Decanter

When drinking wine, there's nothing more important than oxygen to bring out the fullness of its flavors and aromas. When Dad's in a hurry to enjoy a bottle, he'll appreciate this lovely lead-free crystal, Wine Breather Decanter, which will aerate his wine in under two minutes. After decanting, the wine can be served directly from the carafe or the original bottle. Any shyness or bitterness will disappear, leaving a wine that's beautiful and eminently drinkable.
The Cooler Than Cool Wine Glasses

If Dad's a fan of whites and chillable reds (go Dad!), these Cooler Than Cool glasses will be perfect for his continued enjoyment of his favorite wines at their ideal temperature. Made with BPA-free plastic, the proprietary gel inside the glass keeps wine cool for as long as you're enjoying it. It also comes with a silicone band for comfortable holding, available in shades of grey, tangerine, smoke, and wood. Dad's wine will always be ready to go with one of these glasses in the fridge!
Heavyweight Champagne Stopper

A fizzless bottle of bubbly is a killjoy. When you give Dad the restaurant-grade Heavyweight Champagne Stopper, his bubbles will stay alive for as long as he needs them, thanks to sturdy stainless steel construction and a silicone seal.
Adjustable Wine Aerator

If Dad wants wine, give him wine! Rather than waiting, decanting, and waiting some more, he can instead use this Adjustable Wine Aerator to simulate up to six hours of decanting in just minutes. Made with a combination of stainless steel and BPA free plastic, this sleek aerator will have Dad's young, feisty Barolos and Syrahs ready in no time.
Le Creuset Waiters Corkscrew

Leave the flimsy branded corkscrews and over-the-top wine-opening gadgets to other dads. Your dad deserves the best, which also happens to be the simplest option. The wood Le Creuset Waiters Corkscrew features a patented 2-step system to smoothly open any wine bottle with its non-stick coated screw, serrated foil cutter, and bottle opener. This timeless tool can be admired and used for decades to come.
Stackable Countertop Wine Rack

You certainly can get maximalist with your wine rack. But, Dad deserves something classic, beautiful, and functional like this Stackable Countertop Wine Rack. The genius of this rack is that you purchase it by the shelf—each shelf holding four bottles—and then stack as you wish to accommodate wine collections of any size. It can fit comfortably under a cabinet or on a bookshelf, and its clean black metal finish keeps it low-key stylish for years to come.