The beauty of beer is that there's always more to learn and, most importantly, more to taste. For the beer drinker who likes to get a little geekier than most, these gifts are complete must-haves.
SPIEGELAU UNIVERSAL TULIP BEER GLASSES (SET OF 4) – $32.90 (ORIGINALLY $47)
When your fridge is full of hazy NEIPAs and borderline ridiculous pastry stouts, you need some glasses that are ready for anything. This set of Universal Tulip Beer Glasses was designed by a panel of master brewers to enhance the flavor and aroma of whichever beer you pour into it. It's perfect for anyone who is looking to experience the nuances of those highly sought after brews. Bonus—they're dishwasher safe!
THE EXPERT'S BEER LOG – $40.60 (ORIGINALLY $58)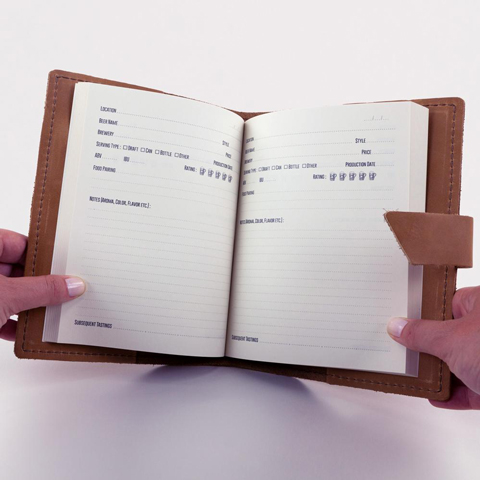 VinePair Associate Editor and Chief Beer Enjoyer Cat Wolinski has used many beer logs during her craft beer journey, and this Expert's Beer Log is her favorite. With its handmade leather cover and consideration of technical details like a beer's production date and how it was served, it will soon become your favorite as well!
TOP HOPS POSTER – $19.20 (ORIGINALLY $24)

We used statistics from the United States Department of Agriculture (USDA) to plot the top varieties harvested in the three major hops-growing states. This museum-quality poster shows where those Simcoe, Cascade, and Chinook hops in your favorite beers come from. A must for all beer geeks.
US COUNTRY & STATE BEER CAP MAPS – FROM $31.50 (ORIGINALLY $59)
These Beer Cap Maps are the perfect way to keep track of your favorite beers from around the country—or even any given state! Hang it on your wall, and pop in any standard-sized cap that you've enjoyed. Voila, you have art (which doubles as subtle bragging rights for how many in-demand beers you've found!).
REINHEITSGEBOT BEER PURITY LAW T-SHIRT – $19.20 (ORIGINALLY $24)

Reinheitsgebot, the German Beer Purity Law of 1516, is extremely simple, stating that beer can only be made of barley, hops, and water. This soft and lightweight shirt is a must-have for the ultimate beer geek.
Thirsty for more? See more Black Friday deals for people who love wine, beer, spirits, and cocktails here!