Every year, we somehow find ourselves stuck in an endless cycle of random Secret Santa and White Elephant parties. Sure they're fun, but we always find ourselves spending way too much time picking out a gift in the price range that someone is just going to throw in a closet or regift anyway.
Our thought process is always give the gift you would actually wouldn't mind being regifted (or stealing from someone in the Dirty Santa), so here are our top picks for drinks-inspired Secret Santa gifts.
Bring Me Wine Socks Socks – $12 (originally $16)

These Bring Me Wine Socks are cozy, cheeky, and practical. Good for a laugh, and for an occasional glass of wine being brought to you without you having to ask (because the socks asked for you). Get multiple pairs to have on hand for those random people you don't know who to gift for.
See The Socks Now!
Crystal Whiskey Tumblers (Set of 2) – $22.50 (originally $30)

A simple, but beautiful set of tumblers. We love these classically designed glasses for our favorite whiskeys, but you'll find they're great for everyday drinks like the perfect cold brew.
See The Tumblers Now!
Aerating Wine Pour Spout – $18 (originally $22)

This Aerating Wine Pour Spout uses gravity to its advantage, and with its helix design, incorporates air as the wine flows into your glass. This opens up the wine, unlocking the nuances and aromas of your favorite vino.
See The Pourer Now!
Cooler Than Cool Wine Glass (Set of 2) – $28 (originally $33)

We love these Cooler Than Cool Wine Tumblers because all you do is throw them in the freezer and a few hours later they're ready to cool down your favorite white or rosé wine. The secret is the proprietary gel inside the tumbler walls which keeps your white wine at the perfect temperature throughout its stay in your glass, no matter if you drink fast or a bit slow. And they're not just for white wine either. Chill the glass in your refrigerator to keep your favorite, lighter reds at cellar temperature too.
See The Glasses Now!
Bring Me Beer Socks – $14 (originally $16)

These comfy Bring Me Beer Socks are a beer-lover's dream. They'll keep your feet warm while you're enjoying a sip of something special, and gently remind anyone around you to come refill your glass. Funny, cozy, AND practical. Just like the wine socks, we recommend keeping a few on hand as a backup present or stocking stuffer.
See The Socks Now!
Cooler Than Cool Pint Glass (Set of 2) – $32 (originally $38)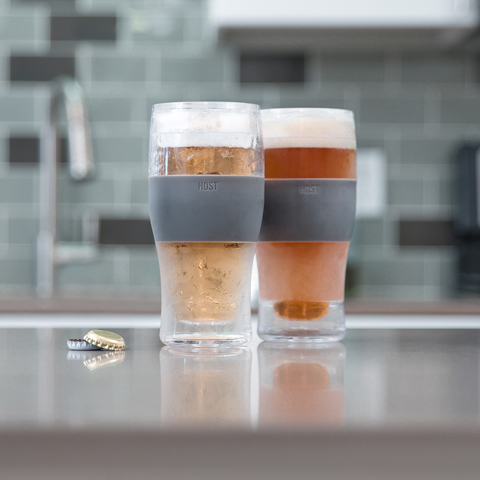 Using the same proprietary gel as the wine tumblers, these Cooler Than Cool Pint Glasses keep 16 oz. of your favorite brew perfectly chilled without masking the aromas. Plus the dual-purpose silicone band on the glass is comfortable to hold and prevents the heat from your hands warming up your craft beer.
See The Glasses Now!