What do you get the drinks lover who has the tendency to buy themselves that special release beer or cult-favorite bottle of bourbon when you're not looking? We recommend getting them things to amplify their favorite drinks. From specialty glassware to bottle thermometers, these are our top gifts and gadgets for people who love wine, beer, and spirits.
FOR THE WINE LOVERS
Bring Me Wine Socks:

These socks are cozy, cheeky, and practical. Good for a laugh, and for an occasional glass of wine being brought to you without you having to ask (because the socks asked for you).
Geometric Crystal Wine Decanter

The specially crafted angles of this lead-free crystal decanter cause light to pass through your vino at multiple angles, causing the beams to refract onto your table creating a ruby-colored light show, especially with medium-bodied red wines and fuller-bodied white wines.
Italesse Red Wine Glasses (Set of 6)

Valentine's Day is one of the most popular occasions of the year to enjoy a nice, high-end bottle of wine which calls for the perfect set of high end wine glasses. We fell in love with this stemware while on holiday in Italy. The luxuriously thin bowls and tall profile of these glasses exude elegance like no other. When paired with a vintage Barolo, you're destined for a night to remember.
Heavyweight Champagne Stopper

Our Editor-in-Chief, Emily Saladino claims this Heavyweight Champagne Stopper has saved her life (and her unfinished bottles of bubbly) on multiple occasions. After testing multiple stoppers through our sparkling wine tastings, we've found that this stopper keeps the bubbles and freshness of your favorite Champagnes and Proseccos the longest.
Le Creuset Waiters Corkscrew

When it comes to a corkscrew, at the end of the day the only things that matter are that it opens your bottle quickly, efficiently, and it's always ready for action. That's why we'll always go up to bat for this restaurant style, double hinged corkscrew by Leaving Creuset. Made with stainless steel and a luxurious, wooden handle, this corkscrew will become your new best friend opening bottles in just a few quick turns.
The Aficionado's Wine Thermometer

To really taste a wine for all it can offer, it's extremely important to serve it at the appropriate temperature. More often than not serving wine at room temperature is too warm and straight out of the fridge is way too cold. Thankfully, a wine thermometer is an easy and inexpensive way to keep track of your vino's temperature. We love this thermometer specifically because it doesn't use batteries like many others on the market and easily fits on regular 750mL bottles. Plus, you'll always know what temperature your wine should be at with its handy guidelines.
The Expert's Wine Log

Sure, you can find wine journals many places. This wine journal, though, has beautiful raw construction, a handcrafted leather cover, and fields to document all the important information, including the label. The perfect gift for those hoping to do a deeper dive into wine, and possibly start a wine career.
Handmade Ceramic Wine Bottle Coasters

These ceramic bottle coasters—which can hold the base of a standard Bordeaux-style, Burgundy-style or sparkling wine bottle—are a chic way to avoid stains on your table. They come in five gorgeous colors and are hand thrown in New York by one of our favorite potters.
Yellow Gold Corkscrew Necklace

Made by a jewelry maker in California who we love, this necklace is the perfect gift for yourself or the wine lover in your life. It's the perfect accessory that can easily go with whatever is already in your closet. We love wearing it to wine tastings and family gatherings (AKA the times when the corkscrew is needed more than ever).
Chalkboard Barrel Wine Cork Holder

This handmade metal cork holder, featuring pops of color from the glass accents, makes cork collecting easy. The hinged, latched door allows for easy reloading and the chalkboard message area is a helpful way to share reminders like "you're beautiful" or "we need more wine."
The Wine Breather Decanter

Much like we need a hot coffee to fully be awake, wine needs a steady hit of oxygen in order to fully release its flavors and aromas. If you're short on time, this decanter is the most beautiful and efficient way to present your wine at its peak in under two minutes.
Cooler Than Cool Wine Glasses (Set of 2)

There's nothing worse than drinking warm wine. Look out for yourself/your wine-loving friends by grabbing a set or two of these chilled glasses, which feature a proprietary gel blend to keep the wine cold, and a silicone band so your hands aren't chilled along with your wine.
FOR THE BEER LOVERS
Top Hops Poster

We used statistics from the United States Department of Agriculture (USDA) to plot the top varieties harvested in the three major hops-growing states. See where those Simcoe, Cascade, and Chinook hops in your favorite beers come from with this museum-quality poster! A must for all beer geeks.
Cooler Than Cool Pint Glass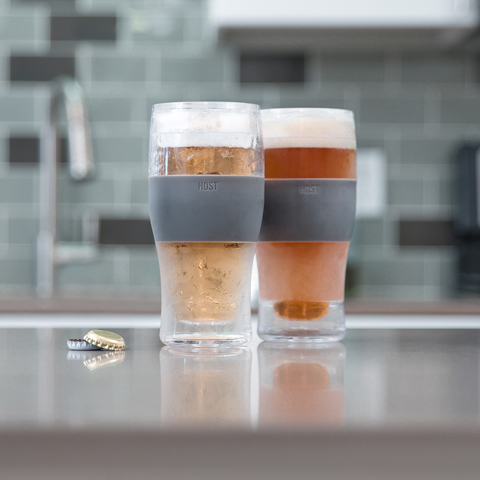 Using the same proprietary gel as the wine tumblers, these Cooler Than Cool Pint Glasses keeps 16 oz. of your favorite brew perfectly chilled without masking the aromas. Plus the dual-purpose silicone band on the glass is comfortable to hold and prevents the heat from your hands warming up your craft beer.
The Expert's Beer Log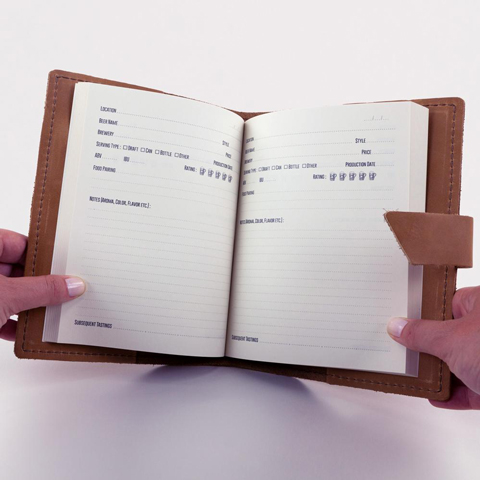 Our Senior Staff Writer and Chief Beer Enjoyer Cat Wolinski has tried many a beer log in her day, and this is her favorite. With its handmade leather cover, and attention to technical details like a beer's production date and how it was served, it will soon become your favorite as well!
Drop Catch Bottle Opener

With the Drop Catch Bottle Opener, simply mount it to the wall or stick it to the fridge, and every time you open a bottle of brew, the powerful magnet inside the wood grabs hold of the cap and catches it before it can fall to the ground, causing it to stick to the opener.
Universal Crystal Beer Tulips

We love this glass because it captures and releases a beer's unique aromas, allowing for an ideal drinking experience.
Beer Purity T-Shirt

Reinheitsgebot, the German Beer Purity Law of 1516, is extremely simple, stating that beer can only be made of barley, hops, and water. This soft and lightweight shirt is a must have for the ultimate beer geek.
Spiegelau Craft Beer Tasting Kit

Designed with the aid of an expert panel of master brewers, this set of glasses is the perfect gift for both craft beer lovers and beginners. The kit includes four distinctive glasses: The IPA glass, the Stout glass, the American Wheat glass and the Barrel Aged Beer glass.
The Flavor & Aroma Profiles of Popular Hops Print

On this matte, museum-quality poster we mapped the most popular American, Australian, New Zealand, English, and German Noble Hops by flavor profile and aroma. These are the hops you are most likely to encounter in craft beer, so you can sip and savor your next brew with newfound expertise.
The Gentleman's Leather Koozie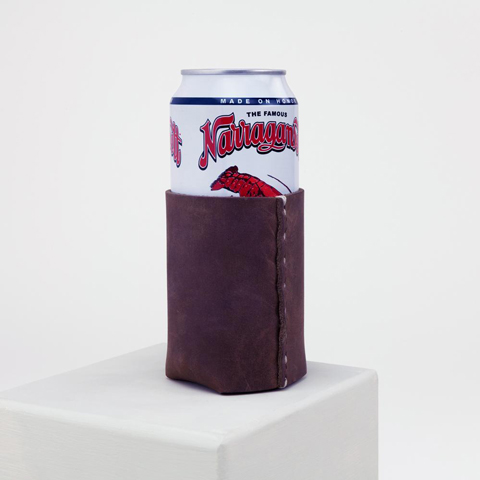 If you're the type of person who has conversations about hop varietals, but is drinking beer from free koozies you got in college, it may be time for an upgrade. This koozie is made of top-grain cowhide and evolves beautifully with age. Any of the three gorgeous colors will keep your brew of choice cold while saying "I like well-made beer and use well-made accessories to enjoy it."
US Country & State Beer Cap Maps

These maps are the perfect way to keep track of your favorite beers from around the country—or even any given state! Hang it on your wall, and pop in any standard-sized cap that you've enjoyed. Voila, you have art (which doubles as subtle bragging rights for how many in-demand beers you've found!).
Hoppy I Met You T-Shirt

We love this shirt for its punny design but also for how it truly puts our love for beer into words.
The Spiegelau Crystal IPA Glass (Set of 4)

The rippled base and round bowl of this IPA beer glass help to preserve the frothy head and complex flavor profile of those hop-forward IPAs. The wide opening enhances the aromatic experience. And, let's be honest, it just looks good.
FOR THE SPIRIT LOVERS
The Essential Cocktail Set

Ask any professional bartender what tools they can always count on and it always comes back to this dependable bar set. Made with exact precision and high quality materials, this essential set gives your everything you need to whip up the classic cocktails everyone knows and loves.
The Mid Century Modern Bar Cart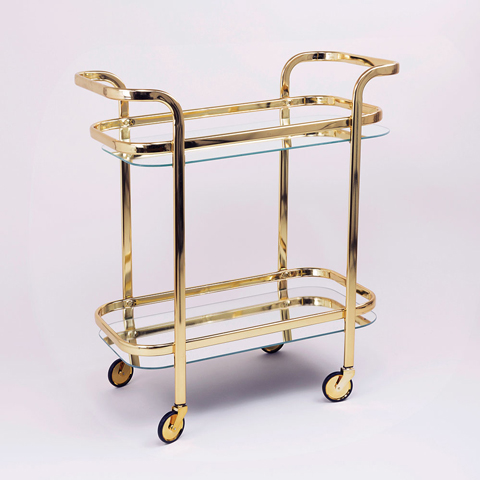 We love this bar cart because it's the perfect blend of fashion meets function — and above all it sells for a reasonable price compared to basically anything you can find for similar quality and style. The gold plated, stainless steel construction is very sturdy, but can easily be moved around with a convenient set of wheels.
The Geometric Spirits Decanter

This eye-catching decanter has twenty triangular sides, meaning it's a low-tech light show in a bottle. Rest it upright or on its side and let it show off the hue of your favorite spirits.
Happy Hour Cocktail Pins (Set of 5)

Put the finishing touch on your outfit with these enamel pins inspired by classic cocktails. Whether you choose the martini, Aperol spritz, negroni, or margarita, your denim jacket or bag will thank you. Get them individually or as a complete set (with a bonus Tiki pin).
Hammered Moscow Mule Mugs (Set of 2)

We love these hammered copper mugs for their classic design. Plus, the inside of the mugs are made of stainless steel, which removes the possibility of copper leaching into your drink if you used lime or lemon juice as an ingredient.
Geometric Drinks Rocks (Set of 4)

We love whiskey rocks for their ability to cool your drink without watering it down, but we're obsessed with these for their unique shapes. Made with soapstone and marble, these rocks are finished by hand and easily fit into a standard rocks glass.
Cooler than Cool Chilled Smoked Whiskey Glass (Set of 2)

Nobody really loves an excessively warm dram of whiskey, which is exactly why we always have one of these glasses at the ready in our freezer. When frozen, the proprietary gel inside the cup keeps your whiskey or bourbon at the perfect temperature throughout the night without any dilution.
The Scotsman Decanter

This timeless decanter is a must-have for whiskey or Scotch lovers. It allows you to have a "house" whiskey always at the ready for when guests come over or when you're looking for a casual dram after work.
The Bracelet Flask

Most recently seen providing some needed relief on the wrist of Sofia Vergara at the Emmys as well as on "Ellen," this bracelet flask is a must have for any fashionista.
Spiegelau Coupette Glass (Set of 4)

There's something about when a cocktail is served coupe glass that just makes you feel like you're drinking liquid money. These Crystal Coupette Glasses are no exception, and are the perfect vessel for all of your martinis, Manhattans, and Cosmopolitans.
Cheers Leggings

These leggings are a must for the person ready to go to happy hour after an intense spin class. Also great for lounging around the house watching Netflix.
The Diamonds Are Forever Ice Cube Tray

While we might rather find an actual diamond at the bottom of our after dinner dram or cocktail, these diamond-shaped ice cubes are a good consolation prize. Because of their large size, they dilute your drink slower, keeping your pour of bourbon or scotch completely balanced. They also look beautiful in a vibrantly red Negroni.