When shopping for people who love drinks, it can be pretty difficult to find exactly what they like. Either you buy a bottle that they regularly drink (boring), grab something new that they haven't tried before (risky), or you can get them something to enhance their drinks experience (the sweet spot).
We've rounded up our favorite gifts (at Cyber Monday prices!) for everyone who loves wine, beer, cocktails, and whiskey. From precision glassware to gadgets that are actually worth using, you'll be sure to find the perfect gift for everyone on your list. Just be sure to grab something for yourself before the sale ends tonight at 11:59 PM.
BEST CYBER MONDAY DEALS FOR WINE LOVERS
The Grand Reserve Wine Fridge – $155 OFF!

Collecting wine is an investment. If you want to ensure that what you're putting away will be pristine when you open it, you need The Grand Reserve Dual-Zone Wine Fridge. It comes in either a classic stainless steel frame or black frameless model and will keep wine perfectly until you're ready for it.
This incredible appliance holds up to 46 standard Bordeaux bottles and has two zones—one for whites and sparkling that can be set between 41-54F and a lower zone for red wines, which can be set from 46-66F. Plus, it comes with a 1-year warranty on parts and labor and 5 years on the compressor. It's the ultimate investment if you're getting serious about aging those special bottles in your collection, and is also available in smaller and larger bottle capacities.
These wine fridges are rarely discounted, so this is definitely a deal you don't want to miss out on.
Heavyweight Champagne Stopper – 25% OFF!

Maybe you've gone through a few bottles already. Maybe you're drinking solo and only want a glass or two. Maybe you opened Cava, but what you really wanted was Chianti.
Whatever the reason, leftover bottles of half-full bubbly do happen. We can't say we often have any leftover wine, but when we do, we don't sweat it. The heavyweight Champagne stopper, with its stainless-steel construction and inner silicone seal, keeps your bubbly fresh until you're ready to dip back in. It fits any standard bubbly bottle and is restaurant-grade. Don't bother with any other Champagne stopper—this is the one that you'll come back to whenever you're in need.
Bring Me Wine Socks – 25% OFF!

We stan a comfy pair of socks, and the Bring Me Wine Socks are an absolute treat. Not only are they super cozy, but they instruct anyone around you to bring you a glass of wine. They may laugh, but they also will do the bidding of the all-powerful socks! The socks have pages and pages of glowing reviews—people love them both for themselves and as gifts and recommend buying these in bulk. Listen to their good advice and stock up!
The Aficionado's Wine Thermometer – 25% OFF!

Obviously, you should enjoy your wine exactly as you like it. If that means practically-frozen whites and lukewarm reds, be our guest! But, most somms recommend drinking whites a little warmer and reds a little cooler than most of us tend towards. To ensure your wine is showing its best side, grab The Aficionado's Wine Thermometer. It takes the temperature of any bottle without having to open the bottle (just attach it to the outside for a moment), and without batteries or mercury. It's practically magic, and the perfect accessory for any wine lover.
Spiegelau Universal Crystal Wine Glass – 25% OFF!

Okay, we'll be honest, we do have a few types of wine glasses around. Sometimes, it's nice to toast with a Champagne flute or to sip from a gaping, elegant Burgundy glass.
But, 90% of the time, we're drinking from these Universal Wine Glasses. After extensive testing, we've found them to be perfect for red, white, bubbly, rosé, skin contact, or whatever else you've got. Plus, they're elegant but durable, made with lead-free crystal, and dishwasher-safe. It's hard to beat these glasses, and we know you'll love them!
Wine Breather Decanter – 15% OFF!

We love the elegance and pageantry of decanting a wine before drinking it. It loosens up young wines, wakes up older wines, and makes whatever you're drinking better.
But, sometimes we don't have time for hours of decanting. In those cases, the Wine Breather Decanter is an absolute life-saver. It decants your bottle of wine in under two minutes, taming acidity and bitterness, and bringing out the subtler flavors and aromas. Serve directly from the lead-free crystal bottle if you'd like, or pour it back into the original bottle. Honestly, this is the only decanter we use these days! An essential piece for the modern wine lover.
Iceberg Insulated Wine Tumbler – 25% OFF!

As we've been staying at home through quarantine, there have been more opportunities for wine. There's been backyard wine, porch wine, socially distanced park wine, bath wine, and noon wine. As our days become more nebulous and our wine becomes more necessary, we've especially relied on the Iceberg Insulated Wine Tumbler. Crafted from sturdy stainless steel, with double-walled insulation, this keeps our wine cold for hours, no matter where we're enjoying. Plus, it comes in black, white, coral, pink, and ruby—one color for every day of the workweek!
The World's Most Popular Grapes Poster – 15% OFF!

Looking to add a little more wine-themed décor to your home? The World's Most Popular Grapes Poster will be just the thing. Printed with giclée printing quality (i.e. real-deal art printing!) with a sleek matte finish, this map/poster illustrates the origins of the world's 14 most common grapes in easy-to-read, easy-to-remember fashion. Since this poster started gracing the wall above our bar cart, we've done better in trivia night and remembered regions much more easily. Any wine lover who loves to learn needs this poster!
Cooler than Cool Chilled Wine Glass (Set of 2) – 25% OFF!

The Cooler Than Cool line is insanely popular, and it's not hard to see why. When frozen (in fact, after only two hours in the freezer), the proprietary gel inside the walls of the glass keep your beverage properly frosty for as long as you're enjoying. The silicone band around the outside makes for comfortable holding and acts as further insulation. This set of 2 BPA-free plastic glasses is perfect for any wine you're enjoying (hint: try it with reds too, to ensure they stay at cellar temp) and even comes in several colors.
Filter Wine Pour Spout – 25% OFF!

We've all experienced it. You're opening a bottle of wine that you can't wait to drink. Maybe it's an old bottle, maybe not. The cork starts to crumble. You try to save it, but it's no use—there are cork bits in your wine. A coffee filter can be a solution, but we've got a better one.
Meet the Filter Wine Pour Spout. Just insert this into the bottle and enjoy your wine as it was meant to be drunk. It's drip-free, leak-proof, and made of durable stainless steel. Just throw it in the dishwasher when you're done! It truly could not be easier.
My Wine Drinking T-Shirt – 15% OFF!

Looking for a super soft shirt that pairs perfectly with that glass of wine you're going to drink? Look no further than this tee, ranging from S to 3XL. It reads "This is My Wine Drinking Shirt" and we find that it not only ensures you a refill, but sometimes inspires those around you to open a bottle of wine to get the party started. What could be better?
BEST CYBER MONDAY DEALS FOR WHISKEY LOVERS
Cooler than Cool Chilled Smoked Whiskey Glass (Set of 2) – 25% OFF!

If you like cold whiskey, the Cooler Than Cool Chilled Smoked Whiskey Glass set may be kind of life-changing. No more do you have to race to drink your spirit before the ice overdilutes it—simply pop these glasses in the freezer at least two hours before you're drinking (we always have a couple in the freezer just in case!). The proprietary cooling gel inside the BPA-free glass will get properly frosty so your drink stays cold all night. You can still add water if you'd like, but you get to control the ratio. Just grab hold of that comfy silicone band, which further insulates your glass, and sip away!
The Houses of Bourbon Poster – 15% OFF!

If you're a bourbon fan, meet your new bar cart art. Printed on museum-quality paper with a sleek matte finish, this Houses of Bourbon poster helps you keep straight your Four Roses from your Buffalo Trace from your Old Crow. Though each label is distinctive, Beam Suntory owns 9 brands on the list and Campari owns more than a dozen. This is indispensable information for the bourbon geek, presented in a clear, eye-catching way.
Spiegelau Bourbon Tasting Glass (Set of 4) – 25% OFF!

Whiskey is wonderful, but bourbon is something special. For the bourbon lover, meet the Spiegelau Bourbon Tasting Glass set. Those irresistible notes of brown sugar, vanilla, and baking spice all become clearer and purer in these glasses designed specifically for bourbon. They're dishwasher safe and will noticeably improve your drinking experience—what's not to love?
Etched Glass Globe Whisky Decanter and Glasses Set – 15% OFF!

For the spirits lover who has it all, here is a decanter and glasses set to seriously up your presentation. Whereas wine decanters, of course, drastically improve the flavors and textures in wine, a decanter mostly just adds panache. This lead-free borosilicate glass set, etched with the map of the globe, adds some serious panache. The removable decanter spins, just like the quintessential globe, and is perfect for your office, library, or bar cart. The beautiful cork and glass stopper is included and ready to protect whichever spirit you can't wait to show off.
Barrel-less Oak Aging Kit – 25% OFF!

Step up your liquor game with this oak aging kit that doesn't need a barrel to provide the color, flavor, and aroma that will transform young liquors into fine spirits. Simple and efficient, once the charred oak stick has been inserted into that bottle of un-aged whiskey or blanco tequila on your shelf, the flavor change will be noticeable in just one day and can continue aging for up to six weeks.
Whiskey Helps T-Shirt – 15% OFF!

Having a rough day? Whiskey helps. Remind yourself and others with this lightweight, super-soft t-shirt that comes in white and gray from sizes XS to 4XL. Bonus: it pairs perfectly with a dram!
Spiegelau Crystal Whiskey Snifters (Set of 4) – 25% OFF!

As you likely know, most of what we think of as flavor is actually aroma. Most of what we love about our favorite Scotch, Japanese whisky, bourbon, and rye is actually those beautiful aromatics. That's why we're obsessed with the Spiegelau Crystal Whiskey Snifters. The elegant long stem keeps your spirit safe from your almost-90-degree-hands warming it up, the roomy bulb allows for the drink to breathe, and the narrowing neck concentrates the aromas and pushes them right up to you as you're enjoying. Trust us, whatever you're drinking will be better in these. They're dishwasher safe too!
Cooler than Cool Glacier Whiskey Glass (Set of 2) – 25% OFF!

Meet our Cooler than Cool glasses, Glacier style. It's the same quick-chilling technology that you've come to know and love with our Cooler Than Cool line, but now with gorgeous glass construction. Pop these in the freezer when you think of it and, thanks to that proprietary gel and the insulating silicone band, your drink will be perfectly chilled all night long.
Crystal Scotch Glass (Set of 2) – 25% OFF!

For a supremely elegant Scotch experience, meet the Crystal Scotch Glass. This set of two is crafted from lead-free crystal in an eye-catching geometric shape that also happens to enhance the aroma of anything that's inside. Whatever you're hoping to savor goes beautifully in here—we also love them for mezcal or aged rum.
BEST CYBER MONDAY DEALS FOR BEER LOVERS
Cooler than Cool Chilled Pint Glass (Set of 2) – 25% OFF!

Banish warm beer forever with these genius pint glasses. This set of two Cooler Than Cool Chilled Pint Glasses could not be easier—just pop them in the freezer two hours before you'll want to enjoy. In fact, we keep ours stashed in the freezer basically always as a gift to our future selves. You never know when the mood will strike! When it's time to crack a bottle, the proprietary gel and silicone band (also great for holding on to) work together to keep your glass nice and frosty for as long as you're enjoying that lager, stout, or IPA. You deserve a cold beer, and these will ensure you get one!
Iceberg Insulated Can & Bottle Cooler – 25% OFF!

If you prefer to drink straight from the can or bottle, there's a solution for you too! Meet the Iceberg Insulated Can & Bottle Cooler. Constructed from sturdy stainless steel with double wall insulation, these use vacuum insulation technology to keep your can or bottle perfectly cold. They blow koozies out of the water–buy a few.
Spiegelau Universal Tulip Beer Glass (Set of 4) – 25% OFF!

The Spiegelau Universal Tulip Beer Glass was designed for the jack-of-all-beers to enhance the flavor and aroma. The brainchild of a panel of master brewers, it's crafted from non-leaded crystal, dishwasher safe, and perfect for the beer lover who loves it all. There's a wide world of beer out there to be explored!
The Beer Types of the World Poster – 15% OFF!

Speaking of the wide world of beer, it can be a little tricky to keep Every! Single! Kind! properly organized in your brain. Even if you have your ales and lagers straight, the origins and subtypes can be dizzying. That's why we made the museum-quality Beer Types of the World poster. Printed on beautiful matte paper, it beautifully lays out over 100 types of beer, where they're from, and their siblings. Essential stuff for the beer nerd!
Reinheitsgebot Beer Purity Law T-Shirt – 15% OFF!

The German Beer Purity Law of 1516, known as Reinheitsgebot, decreed that beer could only be made with barley, hops, and water. For the beer history geek, this "Barley & Hops & Water" shirt will be just the thing. It's just as soft as your already-worn-in-shirts, but brand new! It ranges from XS to 4XL and made from 100% combed and ring-spun cotton.
The Expert's Leather Beer Log – 20% OFF!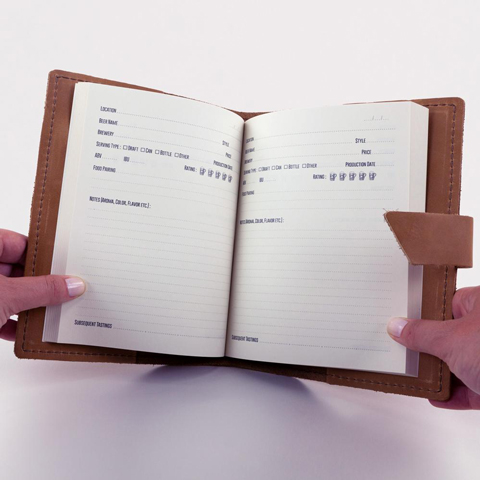 Our beer expert and associate editor Cat Wolinski has used many journals to record her adventures of beer, and this one is her go-to! The cover is handmade with top-grain sturdy—and stunning—cowhide, and it comes with 192 log pages that include technical details like how the beer was served and the production date. Keep your thoughts and tasting notes organized with this beauty, and gift it to all your hophead friends.
Stainless Steel Credit Card Bottle Opener – 25% OFF!

You never know when the beer-drinking mood will strike. For those occasions, we always have the Stainless Steel Credit Card Bottle Opener in our wallets. There's no bummer quite like wanting to open a bottle and not being able to find a bottle opener, but this one is credit card shaped and lightweight, so it comes with us wherever we go. There's also a beautiful Marble coating option.
Beer o'Clock Baseball Hat – 15% OFF!

Meet our baseball hat of choice. It comes in black, forest green, pink, stone, light blue, and white, and says "Beer o'Clock" on it. An excellent reminder of what time it is (and a gentle hint for those around you to pour you one). There's an adjustable strap with an antique buckle, so it fits most and its six-panel low-profile design makes it look very low-key cool.
US Country and State Beer Cap Maps – 20% OFF!

With thousands of craft breweries around the US, there's always going to be something new and exciting to try. Keep track of the high points with the handmade US Country and State Beer Cap Maps. You can get one of the whole country or just of your favorite state. When you're done with a bottle of a new (or old favorite) beer, just pop the cap on in and the memory will be preserved forever. This is perfect for your den, office, bedroom, or wherever you love to enjoy your brews.
BEST CYBER MONDAY DEALS FOR COCKTAIL LOVERS
Cooler than Cool Chilled Martini Glass (Set of 2) – 25% OFF!

Jonesin' for a cold martini? Make sure it stays at peak chill with the Cooler Than Cool Martini Glass. This set of two makes sure that your next imbibing experience will be at the proper temperature—just pop the BPA-free glasses in the freezer for two hours or when you think of it. We always have a couple in the freezer in case we need a spontaneous dirty martini. Once the proprietary gel is frozen, it keeps the cocktails at the perfect temperature without having to add ice. Just keep hold of that silicone band (comfy holding + more insulation) and sip your martini all night.
Schott Zwiesel Gin & Tonic Glasses (Set of 6) – 15% OFF!

Some people think of the G&T as a simple well drink. But, as a cocktail lover, you probably know that this classic cocktail is loved world-round for its possibilities—when you fine-tune the gin, the tonic water, and the garnishes, you really end up with something special. These Schott Zwiesel Gin & Tonic glasses elevate your cocktail even further by enhancing and concentrating those beautiful botanical aromas. There's plenty of room for ice, garnishes, and your gin and tonic will never be the same.
Cocktail Codex Poster – 15% OFF!

When you're getting into the cocktail world, it can be hard to keep your Penicillins, Rob Roys, Gimlets, and Juleps straight, to say nothing of your Daiquiris.
But, according to Cocktail Codex, a James Beard Award-winning book by Death & Co.'s Alex Day, Nick Fauchald, David Kaplan, and Devon Tarby, you really only need to know six classic cocktails and how to riff on them. Start with the Cocktail Codex Poster and learn how to turn a Daiquiri into a Julep and then into a Whiskey Sour. This full-color museum-quality poster opens up a whole world of cocktail possibilities and will significantly improve your home bartender game.
Essential Cocktail Set – 20% OFF!

Looking to make incredible at-home cocktails with professional-grade tools? This set, designed by our friends at Cocktail Kingdom and crafted in Japan, is what you'll find in top bars all over the country. The Essential Cocktail Set comes with a mixing glass, barspoon, jigger, weighted shaking tins, and a Hawthorne strainer for thoughtfully creating just about any cocktail you can think of.
Buswell Collins Glass (Set of 6) – 20% OFF!

Speaking of Cocktail Kingdom, this set of six Collins glasses is also professional-grade and perfect for your Highballs, Bloody Marys, Mojitos, and more. And, they're dishwasher safe!
The Periodic Table of Cocktails Poster – 15% OFF!

Looking for more museum-quality cocktail art for your wall? The Periodic Table of Cocktails poster breaks down the essential details of each cocktail, such as the base spirit, how it's made (built, shaken, stirred, or blended), and glassware.
¡Tequila! Baseball Hat – 15% OFF!

The ¡Tequila! Hat comes in black, white, stone, light blue, and pink and celebrates the joy that is life when tequila's around. You'll be the life of the party whenever you're wearing this!
Canvas Cocktail Kit – 25% OFF!

Seven essential tools, one portable canvas wrap. Take your mixology skills on the go with this Canvas Cocktail Tool Set! This comes with a jigger, strainer, zester, bar spoon, ice tongs, wood muddler, and waiter's corkscrew for whipping up whatever you can imagine. And, in between cocktail adventures, your tools will stay safely stored in the canvas.
Cooler than Cool Glacier Margarita Glass (Set of 2) – 25% OFF!

Whether you're more of a frozen marg or classic marg kind of drinker, the Cooler Than Cooler Glacier Margarita glass will keep your drink perfectly frosty. Each glass in this set of two holds 12 oz, comes with a silicone band for insulation and comfy handling and made with sturdy glass. Just pop these in the freezer when you're feeling like margarita time may be approaching and after two hours, the proprietary gel inside the glass will ensure that everything stays chilled. Cheers to a cold margarita!