With travel so limited this year, it'll be hard to head to Vermont to pick up all those juicy, cult classic IPAs. But, that doesn't mean the holidays are ruined for beer lovers! Why not stock up on the gear that will enhance your drinking experience? This is the stuff we use and love—think a museum-quality beer poster, a beer expert-approved beer log, a tried and tested bottle cooler, and more.
Here are the best gifts for beer lovers, all conveniently on sale for Black Friday weekend.
Cooler than Cool Chilled Pint Glass (Set of 2) – 30% OFF!

Banish warm beer forever with these genius pint glasses. This set of two Cooler Than Cool Chilled Pint Glasses could not be easier—just pop them in the freezer two hours before you'll want to enjoy. In fact, we keep ours stashed in the freezer basically always as a gift to our future selves. You never know when the mood will strike! When it's time to crack a bottle, the proprietary gel and silicone band (also great for holding on to) work together to keep your glass nice and frosty for as long as you're enjoying that lager, stout, or IPA. You deserve a cold beer, and these will ensure you get one!
Iceberg Insulated Can & Bottle Cooler – 30% OFF!

If you prefer to drink straight from the can or bottle, there's a solution for you too! Meet the Iceberg Insulated Can & Bottle Cooler. Constructed from sturdy stainless steel with double wall insulation, these use vacuum insulation technology to keep your can or bottle perfectly cold. They blow koozies out of the water–buy a few.
Spiegelau Universal Tulip Beer Glass (Set of 4) – 30% OFF!

The Spiegelau Universal Tulip Beer Glass was designed for the jack-of-all-beers to enhance the flavor and aroma. The brainchild of a panel of master brewers, it's crafted from non-leaded crystal, dishwasher safe, and perfect for the beer lover who loves it all. There's a wide world of beer out there to be explored!
The Beer Types of the World Poster – 15% OFF!

Speaking of the wide world of beer, it can be a little tricky to keep Every! Single! Kind! properly organized in your brain. Even if you have your ales and lagers straight, the origins and subtypes can be dizzying. That's why we made the museum-quality Beer Types of the World poster. Printed on beautiful matte paper, it beautifully lays out over 100 types of beer, where they're from, and their siblings. Essential stuff for the beer nerd!
Spiegelau Craft Beer Basics Tasting Kit (Set of 3) – 30% OFF!

Each beer style is unique, and learning about them is a treat. To ensure your beer is being tasted at its best, we love the Spiegelau Craft Beer Basics Tasting Kit. It includes an IPA glass, a Stout glass, and an American wheat glass, each designed by a panel of master brewers to bring out the best in whatever you're sipping. Pop them in the dishwasher when you're done, and dream of what you'll taste next.
Reinheitsgebot Beer Purity Law T-Shirt – 20% OFF!

The German Beer Purity Law of 1516, known as Reinheitsgebot, decreed that beer could only be made with barley, hops, and water. For the beer history geek, this "Barley & Hops & Water" shirt will be just the thing. It's just as soft as your already-worn-in-shirts, but brand new! It ranges from XS to 4XL and made from 100% combed and ring-spun cotton.
The Expert's Leather Beer Log – 20% OFF!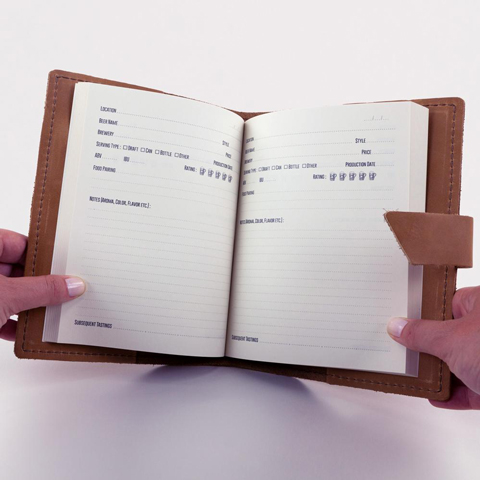 Our beer expert and associate editor Cat Wolinski has used many journals to record her adventures of beer, and this one is her go-to! The cover is handmade with top-grain sturdy—and stunning—cowhide, and it comes with 192 log pages that include technical details like how the beer was served and the production date. Keep your thoughts and tasting notes organized with this beauty, and gift it to all your hophead friends.
Stainless Steel Credit Card Bottle Opener – 30% OFF!

You never know when the beer-drinking mood will strike. For those occasions, we always have the Stainless Steel Credit Card Bottle Opener in our wallets. There's no bummer quite like wanting to open a bottle and not being able to find a bottle opener, but this one is credit card shaped and lightweight, so it comes with us wherever we go. There's also a beautiful Marble coating option.
Beer o'Clock Baseball Hat – 20% OFF!

Meet our baseball hat of choice. It comes in black, forest green, pink, stone, light blue, and white, and says "Beer o'Clock" on it. An excellent reminder of what time it is (and a gentle hint for those around you to pour you one). There's an adjustable strap with an antique buckle, so it fits most and its six-panel low-profile design makes it look very low-key cool.
US Country and State Beer Cap Maps – 30% OFF!

With thousands of craft breweries around the US, there's always going to be something new and exciting to try. Keep track of the high points with the handmade US Country and State Beer Cap Maps. You can get one of the whole country or just of your favorite state. When you're done with a bottle of a new (or old favorite) beer, just pop the cap on in and the memory will be preserved forever. This is perfect for your den, office, bedroom, or wherever you love to enjoy your brews.