The dog days of summer call for refreshing beverages — mixed drinks that ideally pack a punch on flavor yet don't require too much brain power or preparation. On this stage, few offerings match the mix of ginger beer, lime, and vodka, better known as the Moscow Mule.
Of course, it's practically a legal requirement to mention that this drink almost single-handedly propelled vodka to becoming the most popular spirit in America.
Differing accounts of the tale prevail, but the generally accepted version goes that a 1940s L.A. bartender wanted to shift surplus ginger beer languishing in his restaurant's basement. Adding then-widely-unknown Smirnoff vodka to the mixer provided the ideal flavorless boozy kick. Within a year, the Moscow Mule had become the toast of Hollywood, and vodka had begun its journey to dominating spirits sales in the U.S. for decades.
Such a simple formula requires all components to play their part. Lime juice should be procured from fresh fruit a la minute, no ifs or buts. The ginger beer must be balanced and flavorful, providing just the right amount of heat, without going too far. And the vodka… well, it can actually bring more to this cocktail than just alcohol by volume.
Opt for the right bottle, and the vodka can impact the drink's texture, flavor, fiery heat, and finish. Serving ample proof, here are the 10 best vodkas for Moscow Mules.
Absolut Elyx
Distilled from single estate winter wheat, this Swedish vodka is one of the only you'll encounter that's bottled at higher than 40 percent ABV (in this case, 42.3 percent). The additional alcohol provides a punchy Mule — full of attitude but without the flavor of booze.
Average price: $45
Rating: 94
Broken Shed New Zealand Vodka
Made using whey protein, this vodka integrates effortlessly into the Moscow Mule, allowing the other ingredients to shine. Instead, it's the drink's texture that it influences. The creaminess of Broken Shed calms the fiery ginger beer, delivering a velvety smooth iteration of the cocktail.
Average price: $25
Rating: 91
Chopin Potato
Tasted alone, this high quality Polish potato vodka has a subtly fruity palate. Mixed with lime and ginger beer, it has the effect of rounding the cocktail's profile, and serves a fresh, full bodied finish.
Average price: $24
Rating: 92
Dirty Devil
Forget the saline Martini this vodka's (slightly eye roll) name evokes and instead deploy in Moscow Mules. A zesty, citrus-forward version of the cocktail awaits with an enjoyably bright profile and smooth finish.
Average price: $30
Rating: 89
CÎROC Snap Frost Vodka
Distilled from grapes, this iconic French vodka has a bold, fruity profile. Those credentials make it an ideal fit for the Moscow Mule, to which it adds body and depth of flavor that maintain its concentration even as the ice in the cocktail melts.
Average price: $31
Rating: 91
Hanson of Sonoma Meyer Lemon Organic Vodka
With citrus forming a major part of this cocktail, why not turn to a high-quality lemon flavored vodka? The lime juice is still required in this instance but the vodka's candied lemon notes give an extra dimension to the Mule and pair wonderfully with the ginger beer.
Average price: $28
Rating: 91
Helix7
Something of a jetsetter, this vodka combines French wheat and Icelandic water in perfect harmony. Balance, too, remains the name of the game with this Mule, with Helix7 providing a pitch perfect, textbook version of this cocktail.
Average price: $20
Rating: 91
King St. Vodka
If you love the flavor of ginger beer but struggle with its heat, turn to Kate Hudson's King St. Vodka. Corn-based with a hint of vanilla, this vodka tames the fiery mixer and instead highlights the refreshing and zesty lime juice.
Average price: $26
Rating: 91
Reyka Vodka
This polished and clean Icelandic vodka weaves seamlessly into the blend. Though incredibly subtle, its glacial-like quality pokes out on the finish, holding its own alongside prickly ginger and refreshing lime.
Average price: $20
Rating: 91
Sobieski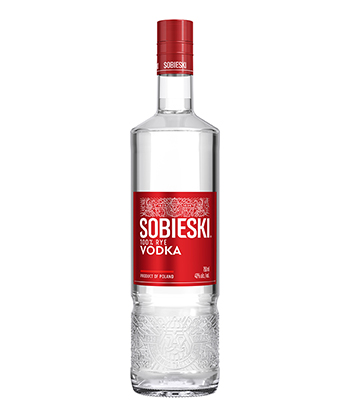 Don't be surprised to encounter Sobieski across multiple VinePair vodka roundups, this bottle currently ranks as our favorite budget pick. Clean in profile, this rye vodka is another that serves a balanced, amped up version of the cocktail. Given its price tag, you can mix them by the pitcher.
Average price: $13
Rating: 92