For a category made up of lightly flavored, boozy, sparkling waters, hard seltzer continues to evolve with staggering speed. Over the past 12 months, we've seen all the major brands increase their flavor offerings, and a range of new innovations including hard seltzer lemonades, hard seltzer iced teas, hard seltzer cocktails, and even hard seltzer IPA. (OK, that last one was a lie, but perhaps not for long.)
With producers choosing between fermented cane sugar, distilled spirits, and wine as the base alcohol for their products, merely defining what qualifies as a hard seltzer these days comes with its own inherent challenges.
As VinePair approached our third annual hard seltzer ranking, we cast a broad eye across the category to come up with our own (unofficial) definition: To be included in our tasting, products would need to contain fewer than 150 calories; arrive at 6 percent ABV or below; and boast fewer than 10 grams of carbohydrates per 12-ounce serving.
After sampling more than 200 offerings, we ranked each hard seltzer based on how well their aromas and flavors represent fruit or other stated ingredients in their fresh form. We looked more favorably on those that showed subtle complexity or offered depth and concentration while still fitting the light-flavored bill. And we limited inclusion to one flavor per brand to give the broadest picture of what's available right now.
Ready to crack a cold one? Here are the 30 best hard seltzers you can buy right now, tasted and ranked.
30. Two Robbers Raspberry Lime
ABV: 5.2%
Calories: 110
Carbs: 1g
From an independent Pennsylvania-based hard seltzer producer, this expression serves ripe and tart raspberry notes and wonderful zesty lime. It finishes clean and crisp, with genuine fruit character.
29. Arctic Chill Ruby Red Grapefruit
ABV: 5%
Calories: 100
Carbs: 3g
Bright and sweet wafts of red grapefruit instantly draw you in to this hard seltzer. Each sip is light on flavor but incredibly refreshing, in keeping with the non-alcoholic flavored seltzer mold.
28. Smithworks Ripe Strawberry Hard Seltzer Lemonade
ABV: 5%
Calories: 100
Carbs: 2g
Blake Shelton's Smithworks vodka brand opts not for a distilled spirit as the base of its hard seltzer lemonades, but instead calls on fermented cane sugar. Adding to the ranks of lemonade seltzer spinoffs, this release lands on the sweet end of the spectrum and delivers a mix of strawberry and citrus notes that are attractive, if not fresh in character.
27. Karbach Ranch Water Hard Seltzer
ABV: 4.5%
Calories: 90
Carbs: 1g
Like most RTD Ranch Waters, this release lacks the rich, cooked agave character that tequila brings to the cocktail — especially where its aromas are concerned. But the palate offers a lot more complexity than most lime-flavored hard seltzers, and there is a suggestion of agave syrup that adds subtle complexity. This is among the best RTD Ranch Waters we've tried.
26. Barefoot Cherry & Cranberry
ABV: 4%
Calories: 70
Carbs: 0.5g
Using wine instead of a cane-sugar base bulks out the body of this seltzer and makes each sip feel fuller-flavored. The combination of cranberry and cherry provides a puckering mix of tart notes and subtle bitterness, which is nicely balanced by juicy, ripe fruit.
25. BON V!V Clementine Hibiscus
ABV: 4.5%
Calories: 90
Carbs: 1g
BON V!V offers a more esoteric range of flavor combinations than most of the major, established brands. Among them, its Clementine Hibiscus hard seltzer is the standout, with convincing waxy clementine and fragrant hibiscus aromas. The flowers are less prominent on the palate, which instead leans into the refreshing and clean character of the ripe citrus fruit.
24. Fountain Beverage Co. Mango
ABV: 5%
Calories: 100
Carbs: 1.5g
This hard seltzer kicks off with a faint grassy aroma, which hints at underripe mango. Its flavors are more artificial-tasting than other mango seltzers on this list, but they're also lightyears ahead of most of those served by the big brands. This seltzer is cool and refreshing, and doesn't give you too much to think about — but in a good way.
23. Crook & Marker Spiked & Sparkling Blackberry Lime
ABV: 4%
Calories: 80
Carbs: 0g
An outlier in many respects, this seltzer is made from an organic, super grain alcohol base. Its berry and citrus flavors are bigger and bolder than almost all of its competitors, and its sweetness manages to match most hard seltzer lemonades without tasting like artificial sugar substitutes.
22. Canteen Watermelon Vodka Soda
ABV: 5%
Calories: 99
Carbs: 0g
All hard seltzers are, in some respect, a variation on a canned, flavored vodka soda. This is one of the only examples that specifically alludes to that drink in its name, and its profile does a great job of delivering on the promise. The nose gives just a hint of watermelon; the palate is light on flavor but shows poise and ends with a crisp, refreshing finish. The watermelon flavors are faint, but by no means is it watery. And that is a subtle, enjoyable distinction.
21. Corona Hard Seltzer Raspberry
ABV: 4.5%
Calories: 90
Carbs: 0g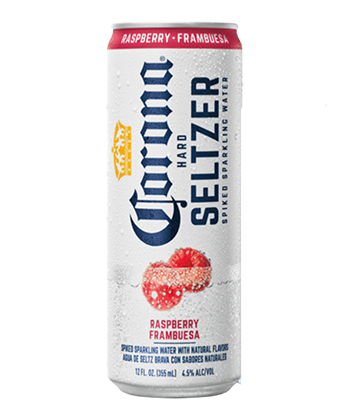 The best of Corona's (currently) four flavor options, this is also among the best standalone raspberry seltzers going. Its aromas capture the ripeness and tartness of the fruit, while the palate tastes like a crisp and refreshing raspberry vodka soda.
20. PBR Hard Tea Seltzer Raspberry Black Tea
ABV: 4%
Calories: 100
Carbs: 5g
Even with its pleasantly sweet profile, this release tastes more nuanced and "serious" than you might expect. The raspberry and black tea aromas combine nicely on the nose and never compete or clash. Each is notable on the palate, too, with the tea lingering enjoyably on the finish.
19. Vizzy Hard Seltzer Raspberry Tangerine
ABV: 5%
Calories: 100
Carbs: 2g
A few of Vizzy's lineup arrive with unexpected and, frankly, less than appetizing sweetness; but not the bracing Raspberry Tangerine. Its berry and citrus aromas are served in equal proportions, with tangerine taking point on the palate, and hints of raspberry rounding things out. This is a distinctive combo that works really well.
18. Flying Embers Pineapple Cayenne Hard Seltzer
ABV: 5%
Calories: 95
Carbs: 0g
Pineapple and chili powder have long been paired in cooking and this release shows they can succeed just as well in hard seltzer form. The pineapple notes span a broad spectrum from ripe fruit to green peel and leaves. The cayenne lends a tingling spice to the finish of both nose and palate, dialing up the intensity of each sip.
17. White Claw Iced Tea Mango
ABV: 5%
Calories: 100
Carbs: 1g
The sheer popularity of White Claw makes choosing a favorite from its lineup something of a thankless, divisive task. But if it's concentration and complexity you seek, look no further than the recently released Mango Iced Tea. The fruit and tea notes come together to amplify each other, adding great depth from start to finish. The sweetness level also hits the perfect spot.
16. Truly Passion Fruit
ABV: 5%
Calories: 100
Carbs: 2g
Arriving with attractive tropical fruit aromas, the layers and nuance delivered on this seltzer's palate come as a stark and welcome surprise. The finish builds on its fruity core with dazzling vanilla and coconut notes. Summer never tasted so good.
15. Mike's Hard Lemonade Seltzer Pineapple
ABV: 5%
Calories: 100
Carbs: 1g
Like all of the Mike's Hard Lemonade Seltzer line, this expression has noticeable acidity, which adds skillful balance to its sweet and tart fruit notes. The aromas are like sniffing a fresh pineapple on its base to see if it's ripe — and it is! This is one of the best pineapple-flavored seltzers we've ever tasted, and a great option for those with a sweet tooth.
14. Funky Buddha Tropical Mango Guava
ABV: 4.5%
Calories: 90
Carbs: 1g
There's a perplexing quality to this hard seltzer. It succeeds where so many fail in serving tropical fruit that smells and tastes genuine. The flavor profile is exceptionally clean — there are moments when it tastes purer than water, but somehow there's also a decent concentration to the mango and guava notes. The end result is a mouthwatering and infinitely crushable seltzer.
13. Party Water by Five Boroughs Brewing Co. Grapefruit Orange
ABV: 5%
Calories: 100
Carbs: 2g
Arriving in May 2021, this craft hard seltzer dazzles from the get-go. The grapefruit plays a starring role, delivering a performance that's full of tart, citrusy fruit and complex pith-y notes. The orange never threatens to steal the limelight, but is a competent supporting actor. Drinking this is like enjoying a freshly squeezed, full-flavored fruity highball.
12. Good Company Hard Seltzer Peach
ABV: 5%
Calories: 100
Carbs: 2g
This seltzer's aromas recall "natural" rather than natural peach, which is to say ripe fruit poached in rich simple syrup. Any fears of cloying sweetness are soon allayed by lively acidity and a lithe mouthfeel. This seltzer succeeds because of its intensity, texture, and fruit profile.
11. Coastal Rosé Pineapple Spritz
ABV: 5%
Calories: 100
Carbs: 5g
A fruity and inviting mix of effervescent rosé wine and pineapple, this expression has more body and greater depth than most hard seltzers. The pineapple and rosé notes weave into something that is neither a wine spritzer nor a hard seltzer, but the recipe and combination are a hit. Its 5 percent ABV content means you can drink this rosé all afternoon, if not all day.
10. Sparkling Ice Spiked Ruby Fizz
ABV: 4%
Calories: 80
Carbs: 1g
One of the surprisingly few soft beverage brands to pivot into the hard seltzer space, Sparkling Ice has masterfully recreated its sweet and tart grapefruit soda (the best of its N/A lineup) in boozy form. Compared with hard seltzer lemonades, the sweetness here is more forgiving, with energetic acidity doing its part to round things out. Add tequila for a beefed-up Paloma.
9. Tolago Ginger Pear
ABV: 5%
Calories: 100
Carbs: 2g
Ginger lovers will appreciate this seltzer's range of flavors, which span the root in its pickled, syrup, and freshly grated form. A whisper of poached pear lurks beneath that bold character, before a softly spoken finish that's surprisingly persistent. This particular combination promises to pair well with a hearty summer salad.
8. Decoy Premium Wine Seltzer Rosé and Black Cherry
ABV: 5.5%
Calories: 80
Carbs: 3g
Black cherry flavoring is the seltzer equivalent of truffle oil. Not enough, and it feels weak and lacking in character; but just one drop too many and it easily overpowers. In this wine-based hard seltzer, Decoy has found its ideal, fruity home and applied the flavor in precisely measured doses. The profile is undeniably rosé, but you can taste the tart and mouthwatering cherry essence. Like the best bottles from Provence, the finish is light, crisp, and has you craving more.
7. 10 Barrel Brewing Co. Clean Line Mango
ABV: 5%
Calories: 110
Carbs: 4g
Fresh slices of luscious ripe mango instantly come to mind while enjoying this bright and lively hard seltzer. The fruit flavor arrives with stunning HD clarity, even if the racy texture lands it on the lighter end of the overall seltzer spectrum. But that only serves to help you appreciate its fine bubbles and attractive mousse.
6. Wild Basin Lemon Agave Hibiscus
ABV: 5%
Calories: 100
Carbs: 1g
Each of the components of this bougey-sounding seltzer is easily identifiable, and it's an attractive and enticing proposition from the get-go. The palate is concentrated and full of flavor, but lithe and refreshing, too. With each sip hitting citrusy, floral, earthy notes, it's a memorable combination and an undeniable success.
5. High Noon Grapefruit
ABV: 4.5%
Calories: 100
Carbs: 2.6g
One of the few hard seltzers that uses vodka for its base, High Noon's lineup offers fuller texture on the palate than the average release — something that's no doubt linked to the inclusion of distilled liquor. If you're not looking for fancy flavor combinations, this citrusy vodka soda is a welcome reminder of the subtle pleasure of that simple cocktail, especially when the grapefruit flavor is as concentrated and compelling as this.
4. Ficks Mango
ABV: 5%
Calories: 100
Carbs: 3g
Each and every mango release on this list can be praised for the simple fact of that particular fruit being so hard to recreate without tasting blatantly artificial and tinny. This is the best of the best. The tropical aromas arrive with vibrant and refreshing bluster, while the intensity of flavor matches its rich orange-juice hue. To cap things off, the effervescence is elegant and refined, elevating the overall experience.
3. Willie's Superbrew Mango & Passionfruit
ABV: 4.5%
Calories: 110
Carbs: 5g
This is what hard seltzer made using real fruit and real ingredients should taste like. The tropical character is delivered with depth and concentration. The palate is fresh and juicy, with an extra kombucha note. All three notes intertwine into seamless delicious sips, with nice weight and the perfect amount of sweetness. This hard seltzer packs a punch, with an enjoyable side of subtle funk.
2. Amass Sun Sign
ABV: 5%
Calories: 110
Carbs: 2g
Amass's range of intriguing, botanical-inspired hard seltzers leads us into a new realm of exciting possibilities (hardly surprising, given the quality of this producer's gin). We enjoyed each in its trio, but the mandarin-, oak-, and vanilla- flavored Sun Sign shone brightest. There's a lot more depth and nuance than the simple recipe sounds. The orange notes are zesty, sweet, and bitter. The vanilla and oak enter the fray on the palate, adding richness and a toasty finish. This is a serious alcoholic beverage, and if you handed it to a friend and told them it was a canned highball from a world-class cocktail bar, they'd surely nod their head and say, "that figures."
1. H2Roads Grapefruit
ABV: 4.5%
Calories: 110
Carbs: 3g
From Stratford, Conn.'s Two Roads Brewing Company, this release offers a stunning, refreshing expression of grapefruit, and hands down the most authentic-tasting seltzer on the market. It leads with vibrant fruit aromas before each sip lands layers of concentrated flavor. A pleasantly bitter finish recalls grapefruit in its natural guise and provides balance to the acidity and sweetness also on show. If you ever tire of drinking this on its own (unlikely), it's another great candidate for boozier Palomas.