Gin was originally invented by monks for medicinal purposes, but we're eternally grateful that it's since been discovered as an excellent and herbaceous base for a variety of cocktails. The botanical flavors inherent to gin give it a peppery sweetness that can be identified in almost any drink.
Despite the spirit's signature flavor, gin cocktails are incredibly diverse, from fruity and floral Aviations, to savory and piquant Gibsons. Pairing with garnishes from raspberries to onions, gin's range is unmatched.
Here are 18 of the most essential and popular gin cocktails.
Don't Miss A Drop
Get the latest in beer, wine, and cocktail culture sent straight to your inbox.
Negroni
Negronis are aperitifs, meaning they're the perfect drink to stimulate your appetite before a hearty meal. Legend has it that the Negroni was first made in 1919 when Count Camillo Negroni of Florence, Italy, asked his waiter to liven up his Americano. Made with gin, Campari, and sweet vermouth, this Italian aperitivo provides the liveliness the count was looking for. But beware: Knock too many of these delicious cocktails back, and you may wake up the next morning feeling deathly.
Gimlet
There's somewhat of a consensus that the Gimlet was invented during the Jazz Age, and it's not hard to believe. There's something inherently snazzy about this drink. While a smooth jazz song may feel unifying, the proper way to make this drink is a divisive topic. All Gimlets are gin-based, but some versions use a splash of lime and simple syrup. Other recipes call for a bit of soda. Some Gimlet fans (like Raymond Chandler from the 1953 novel "The Long Goodbye") insist that a proper Gimlet can only be made using Rose's lime juice cordial. Any way you make it, it's best served with a slice of lime — you can even use a dehydrated one for an even spiffier look.
Gin and Tonic
The classic G&T is one of the most beloved and easy-to-make cocktails on earth. The gin and tonic was first popularized in the 19th century by the army of the British East India Company in India. Apparently, the soldiers tried mixing things with their quinine (now present in tonic water) in order to make the malaria-preventing medicine more palatable. The drink caught on and has since become relatively ubiquitous in the U.K. and beyond. Just pour your gin, add a bit of tonic water, garnish with a lime, and you're good to go.
Gin Martini
Martinis are an icon of sophistication. No Martini is quite as posh as the gin Martini, which is widely agreed among historians to be the first of its kind — sorry, vodka. This stiff, aromatic drink is made with gin and dry vermouth and can be garnished with either a lemon twist or an olive. It depends on whether you prefer a savory refreshment, or a lighter one with a hint of citrus.
Singapore Sling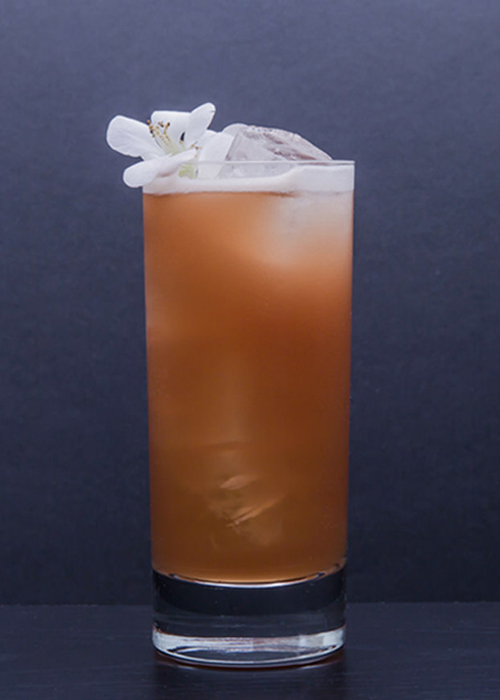 Legend has it that the Singapore Sling was invented by bartender Ngiam Tong Boon at Singapore's Raffles Hotel in 1915. Since social etiquette deemed it improper for women to drink alcohol, they were excluded from sipping on gin and whiskey like their male counterparts did. Tong Boon circumvented this by creating a colorful cocktail disguised as fruit juice, allowing women to imbibe discreetly. Today, we're not nearly as subtle about our love for Slings. A good Sling is made by shaking gin, cherry heering, Benedictine, lime, and Angostura bitters, then adding in a splash of soda.
Last Word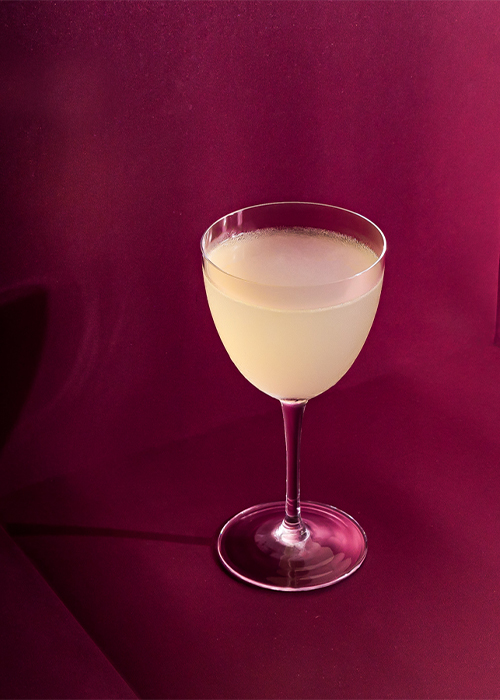 The Last Word is as tasty as it is aesthetically pleasing. The Prohibition-era cocktail is made using gin, Maraschino liqueur, fresh lime juice, and green Chartreuse, the latter from which it gets its lovely electric sage color. Herbal and sweet all at once, the Last Word is the best of both worlds.
Aviation
The Aviation is made using crème de violette — something you're not likely to have on your bar cart, but definitely should. The unconventional ingredient is believed to be why the Aviation, first crafted in the early years of the 20th century, lost its original popularity for some time. However, it experienced a resurgence in the beginning of the 21st century when bartenders began to revive Prohibition-era cocktails. The perfect Aviation is marked by a recognizable pale azure color as well as a tartness and florality that complements its sweetness. The cocktail is made using gin, Maraschino liqueur, fresh lemon juice, simple syrup, and the famous crème de violette.
Gin Fizz
The Gin Fizz is a twist on the traditional sour family of cocktails. Like sours, Gin Fizzes are made with simple syrup, soda, and citrus (in this case lemon), but can also be made a tad frothy with the addition of egg whites. For this recipe, we're keeping it simple. If this version doesn't do it for you, have no fear — there are nearly endless varieties of the drink, from the Silver Fizz to the New Orleanian Ramos Gin Fizz.
Tom Collins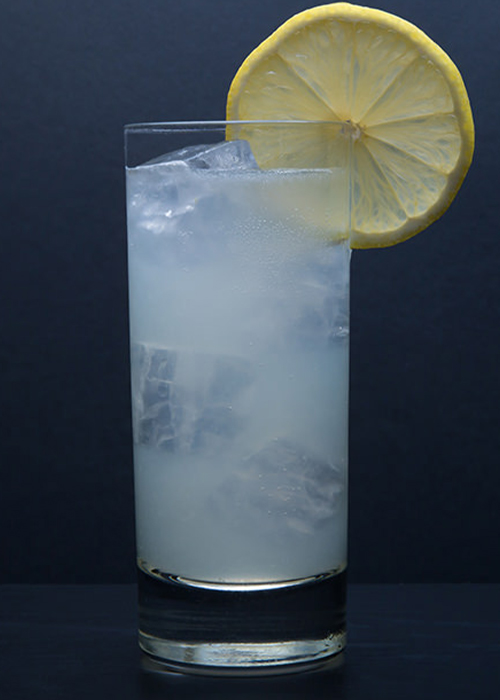 While the Tom Collins and the Gin Fizz have identical ingredient lists and both first appear in author Jerry Thomas's 1876 bartenders guide, they are differentiated by their texture. The Gin Fizz is unsurprisingly more bubbly, while the Tom Collins is stirred and served on the rocks. For the most traditional Tom Collins, you're going to need to get your hands on Old Tom gin. Old Tom doesn't taste as strongly of the juniper flavor that gin is often distinguished by — it's made with beet sugar instead, making it a bit more full-bodied and mellow.
Vesper
The Vesper first appeared in Ian Fleming's 1953 novel "Casino Royale." In the book, James Bond crafts this cocktail and names it after his love interest, Vesper. It's hard not to feel enigmatically sophisticated when sipping on one of these. To drink like 007, combine gin, vodka, and Lillet, and serve in a classic cocktail glass.
Gibson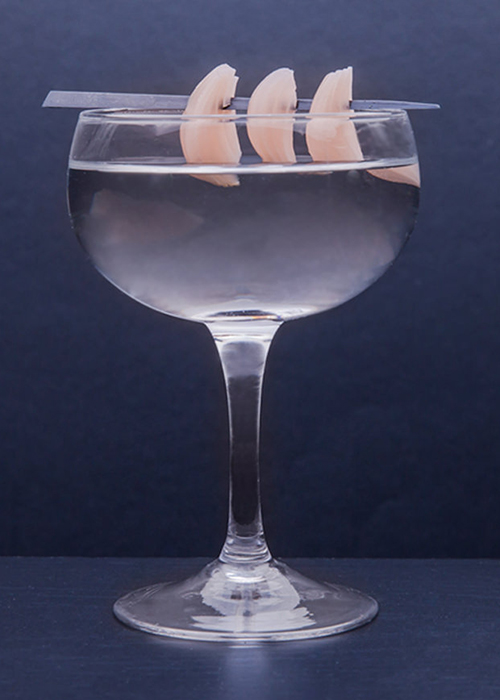 This savory cocktail may not be for everybody, but it was a favorite of "The Queen's Gambit" protagonist Beth Harmon. Throughout the series, the world-famous chess champion slugged down countless Gibsons, despite their harshness. Gibsons are made with gin and a bit of dry vermouth, and then garnished with onions. Yes, onions. While they might not have every drinker so quick to pull out their cutting board (or their chess board), Gibsons are certainly unique and were beloved in the 1960s.
Corpse Reviver #2
As evidenced by its name, the Corpse Reviver #2 was crafted with the purpose of resuscitating those who have had a little too much fun the night before. This hair-of-the-dog recipe includes gin, triple sec, lemon, Lillet Blanc, and a bit of absinthe.
French 75
The French 75 is named after a 75-millimeter World War I-era gun used by French soldiers. And considering it hits the spot every time, it's almost as if it uses our taste buds in target practice. Originally made at Harry's New York Bar in Paris, the drink consists of gin, lemon, simple syrup, and is topped with Champagne. The French 75 is ideal for brunch, as it's a boozier alternative to the Mimosa.
Clover Club
The Clover Club originated in the late 1800s at Philadelphia's Bellevue-Stratford Hotel, a haunt for many famous thinkers of the time. Its namesake is an exclusive men's club whose members often met at the hotel and presumably drank plenty of their eponymous cocktails. Made with gin, lemon, raspberry syrup, and egg whites, the Clover Club is both tart and silky, but completely balanced.
50/50 Martini
With a name that gets straight to the point, the 50/50 Martini is an impossible to forget two-ingredient recipe made with equal parts gin and vermouth. To finish things off, toss just one dash of orange bitters into the mix before stirring until chilled and straining into a chilled Martini glass.
Bee's Knees
Created in the 1920s, the Bee's Knees was originally designed to mask the taste of questionably-made spirits during Prohibition. Thankfully, should you choose to imbibe one today, you'll have your pick from a number of gins vastly superior to those available at the time of its inception. To make your own, combine gin, freshly squeezed lemon juice, and honey syrup to a shaker. Shake until ice cold, strain into a coupe glass, and garnish with a lemon twist.
The Bramble
Invented by iconic bartender Dick Bradsell as the ideal cocktail to enjoy over a long afternoon, the Bramble is deliciously sessionable and has inspired a number of flavor variations. In the original recipe, gin dances around with zippy lemon juice, both of which are balanced with the addition of simple syrup and succulent crème de mûre.
The Gin Rickey
The Gin Rickey is an essential no-frills cocktail ideal for lovers of highballs like the Gin and Tonic. Simply made with gin, club soda, and a squeeze of fresh lime juice, the Gin Rickey was created to refresh government workers during D.C.'s sticky summers and remains a favorite among U.S. politicians today.