Enjoying a high-quality cocktail at home no longer requires a costly investment in bitters, liqueurs, and obscure base spirits. The range of bartender-quality, ready-to-drink cocktails has never been better. And for those wishing to dust off the jigger and shaker, pre-packaged non-alcoholic cocktail mixers present an increasingly attractive option.
The very thought of such products might once have drawn links to cloying, artificial mixers, but that's no longer the case. In recent years, VinePair has tasted and ranked cocktail-specific categories, like the best Bloody Mary mixers and the best ginger beers for Moscow Mules. We were pleasantly surprised by the quality on offer. But now, the packaged mixer landscape is brimming with ever more complex possibilities — in terms of flavor rather than preparation — so we embarked on a broader exploration.
To come up with this ranking, VinePair tasted dozens of brands to compile the best options on the market. Having covered them before, we omitted Bloody Mary mixes and ginger beers from the tasting. The final ranking took into account factors like overall flavor quality, versatility, and ease of use.
So forget squeezing fresh limes or running out of simple syrup midway through your Daiquiri preparation. These are the eight best cocktail mixer brands, tasted and ranked.

Offering an innovative take on the category, New York-based Owl's Brew produces its mixers using a base of fresh-brewed organic tea. The brand's lineup includes options such as Watermelon Margarita, Chai Piña Colada, and Strawberry Manhattan. In each case, preparation is simple: Combine two parts mixer with one part base spirit and shake with ice until chilled. Owl's Brew recommends a specific spirit for each drink, but also encourages experimentation. In each case, the mixed drinks are fruity and refreshing, though a savory tea note runs throughout. This isn't a bad thing, but it's worth noting in case you're looking for "classic" iterations of drinks like the Manhattan or Margarita. These mixers instead provide fun riffs, with the Strawberry Manhattan the star of the show. Average price: $13 per 16-ounce bottle.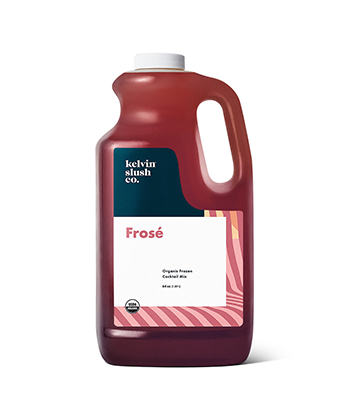 Forget buying expensive slushy machines or multiple cocktail ingredients; all that's required to enjoy delicious frozen cocktails at home is a food blender, ice, your preferred base alcohol, and one of Kelvin's premade mixers. Flavors range from classic cocktails like the Margarita and Piña Colada to wine-focused Frosé, Frosé Blanc, and Frosé Noir. Adventurous mixologists with a well-stocked bar cart can also use the citrus mix to tackle more esoteric creations, like a frozen Corpse Reviver No. 2 or frozen Paper Plane. If you previously associated frozen cocktails with cloying, artificial-tasting drinks,  think again. Average price: $31 per 64-ounce bottle.

New York-based Cocktail Crate provides a mainly whiskey-focused line of mixers that arrive in 375-milliliter bottles. The lineup includes classic drinks like the Whiskey Sour and Old Fashioned, as well as spiced and flavored riffs on each cocktail. Using the mixers is straightforward, requiring a simple ratio of mixer added to a base spirit, with the drink then shaken or stirred. The end profile of each cocktail is lively and concentrated. The whiskey sour has racy acidity while the Old Fashioned is bold but balanced. Average price: $12 per 12.7-ounce bottle.

California-based LAVA delivers a range of mixers that are perfect for parties and home entertaining. Each arrives in 1-liter bottles and is made using fresh ingredients. Italian San Marzano tomatoes provide a sweet and tangy base for the Michelada mix, while pureed jalapeños add pleasant heat to the Spicy Margarita mix. All the mixers yield quality cocktails that are easy to prepare. The 1-liter packaging is well suited to batching and serving a large group, but it's an admittedly hefty amount for the casual weekend imbiber. Seek out the Michelada mix for the premade mixer you never knew you needed. Average price: $13 per 33.8-ounce bottle.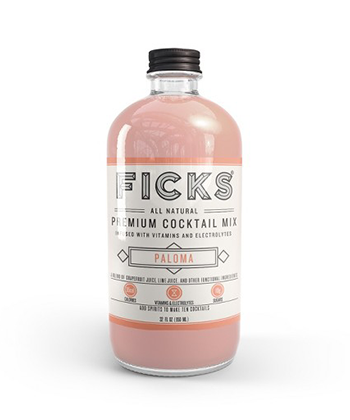 Looking for a low-calorie mixer that doesn't compromise on flavor? California-based Ficks Beverage Co. has you covered. As well as serving up some of VinePair's favorite hard seltzers, this brand's cocktail mixers are authentically fruity and not artificially sweet — despite serving just 30 calories per 3-ounce pour. The Margarita mix makes a fruit-forward, easy-sipping cocktail, with a nice balance of acidity and sweetness. The Paloma mix has a bittersweet grapefruit core, with a complex peppery streak. Be sure to keep a stash of seltzer on hand if you want a Paloma with a fizz. Average price: $25 per 2-pack of 32-ounce bottles.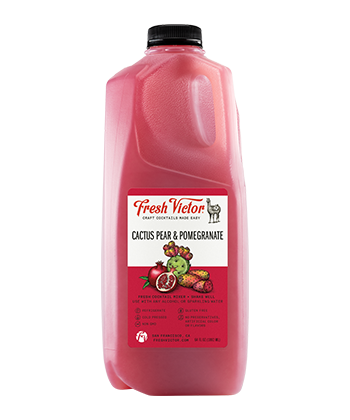 San Francisco-based Fresh Victor is a company in transition. Initially launched for the bar industry, this brand recently began selling its products direct to consumers, with two flavors now available in seven states and further expansion imminent (both in terms of offerings and distribution). The company's growing range of cold-pressed, juice-based mixers serves cocktails with laser-focused balance. The Mexican Lime & Agave mixer is piercingly acidic with vibrant flavor. The Cactus Pear & Pomegranate, meanwhile, is simultaneously dry, fruity, and refreshing — in other words, it's got high-quality Cosmo written all over it. This range should be on the radar of any aspiring home bartender who doesn't want the hassle and mess that come with juicing fresh fruit. Average price: $59 per 6-pack of 16-ounce bottles.

This is another notable option for those looking to cut corners without compromising quality. Instead of ready-to-spike mixers, New York-based Cheeky offers an 8-pack bundle of bottled citrus juices and infused syrups. Arriving in petit 4-ounce tincture bottles, the infusions and fresh juices combine in a range of mixed drinks, from Cosmopolitans to Gimlets, Daiquiris, Margaritas, and more. Each cocktail requires two parts base spirit and one part each syrup and juice. Cheeky offers a variety of recipes on its website, as well as a handy library of cocktail tutorial videos. Each $60 bundle contains enough lemon and lime juice for around 10 cocktails, making it ideal for a night in with friends. You'll then have around 20 cocktails' worth of syrup left over, which can be combined with more (home-prepared or Cheeky-bought) citrus juice. Average price: $60 per 8-pack bundle of 4-ounce syrups and juices.

The best packaged cocktail mixer on this list serves equal parts quality and convenience. The formula couldn't be simpler: Each flavor pairs with a range of spirits using an equal-parts ratio. The Smokin' Margarita, for example, offers a lip-smacking Whiskey Sour when shaken with an equal quantity of bourbon. Swap in tequila, and you're soon sipping on a tart, juicy Marg. Opt instead for vodka, and it's smokey, spicy Martini time. With each 16-ounce bottle making between eight and 10 cocktails, and five impressive flavors to choose from, the home bartending world is your oyster. All the mixers have a two-week lifespan after opening, when kept in the refrigerator. The high quality of the cocktails they produce makes it quite unlikely they'll remain unfinished in that time. Average price: $12 per 16-ounce bottle.